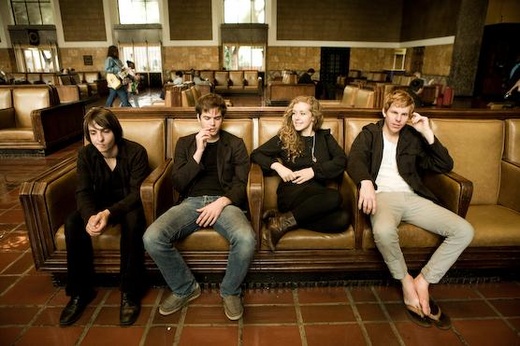 In 2004, the indie quartet The Hush Sound was formed near Chicago, Illinois and has since released three outstanding albums. Gaining the attention of Pete Wentz of Fall Out Boy, The Hush Sound was signed in 2006 to Decaydance Records/Fueled by Ramen.  They recorded their second album with producers Sean O' Keefe and Patrick Stump of Fall Out Boy. Their song, 'Wine Red' was chosen to be on the soundtrack to "Snakes on a Plane." Their third album was released in 2008 and a song from it is featured on an episode of House as well as Grey's Anatomy.
The band has toured with many groups including: All-American Rejects, Boys Like Girls, and Panic! at the Disco. Their most recent tour to Japan for "Decaydance Fest" with other artists from their label including: OneRepublic, Augustana, and Spill Canvas.
Keep an eye out for The Hush Sound, you'll be seeing more of them as time goes on!