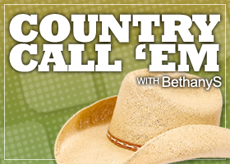 Stillettos, Gucci suits, big buckle belts? Despite the oxymoron of country music fashion, it seems that more and more country music artists are branching out of their Stetsons and into our closets. Whether they leave the design to the professionals or merely entice buyers with their big names, country stars are diving head first into a pool of denim, leather and straw hat designing.
Like our boy Kenny. While there are many things to praise about arguably the most successful country artist next to George Strait, fashion sense is not one of them. The man who's casual look consists of a muscle tee, tight jeans and a cowboy hat has never been considered knowledgable when it comes to clothing. Because hey, lets face it, when he DOES "dress up," he wears a simple button up, tight pants¦ and a cowboy hat.  Nonetheless, Kenny Chesney came out with a new clothing line called Blue Chair Bay. Thankfully, he is expanding on his lesser fashion-offensive looks; casual wear. Kenny's  line includes khakis, shirts, baseball caps, and wait for it¦ COWBOY HATS. Kenny says that he wants Blue Chair Bay to represent that shirt you've worn a thousand times, bleached out in the sun, but want to wear again and again. Personally, the only way I would  buy an old looking shirt for a new-shirt price is if it came directly off Kenny's chiseled, tan back.
Sheryl Crow is another crooner who is throwing her jeaned leg into the fashion race. She has come out with Bootheel Trading Co., a denim wear company sold out of Dillard's. While some of her red carpet moments are questionable, the Bootheel line is modeled after her performance and every-day style. Basically, like Kenny, she's going for a casual line that's reasonably priced for her fans. Bootlegged jeans and rocker tops, Sheryl makes this line look like it could be sold anywhere, to anyone. Whether that makes it a to-die-for collection, or just another Levi-wannabe jeans company is still in question.
But, thank goodness for Jason Aldean. Jason really knows that in order to reap the benefits of a clothing line, you leave it to the professionals. Of the dozens of country men who rock the Wranglers, Aldean was chosen to be the butt of Wrangler Western Wear, their new retro line of denim. Jason partnered with Wrangler this summer, but his love for the brand has been a staple since he was 14-years-old. Mr. Aldean has always been the simple cowboy in Nashville, and chose to spearhead a campaign for a product all of country music can stand behind (and man, what a view we'll have!)
When it comes to Nashville fashion, the bottom line is this: You won't be finding sequins, Swarovski crystals or fancy frills on any line made by a true cowboy or cowgirl. The country stars that decide to brand themselves in this new and competitive market thankfully stick to what little they know about fashion; comfort and reliability. Funny, those are the two reasons why I love these artists. And I always stick with what I love, no matter which Worst Dressed list they may appear on.