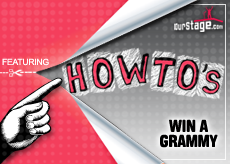 You know you've been rehearsing your acceptance speech for years¦ I'd like to thank the Recording Academy and my fans for all their support ¦ But invariably your reverie is interrupted by your mom calling you for dinner, or your boss walking by your cubicle, or your significant other telling you to shut up and go to sleep.
It might be kind of nice to get your GRAMMY award speech out of your head and into real time, right? But how?
There's no direct route to a GRAMMY, but there is a process. And where there's a process, there's a way. Here's how it works, and how you might be able to work the system.
It all starts with members of the Recording Academy. These people fall into one of three categories: voting members, associate members and student members. "Voting members" are music professionals (creative and technical) with credits on at least six commercially released tracks. Think vocalists, conductors, producers, arrangers, songwriters, etc. "Associates" are recording industry professionals like entertainment attorneys, record label staff, artist managers, etc. And "student members" are just that " college students pursuing a career in the music industry (either on the performance or the business side).
Though all three can submit the recordings they believe are worthy of GRAMMY nominations, only voting members can elevate a recording from the bog of submissions to the upper echelon of nominations, and then eventually, the inner sanctum of awards. (Note: In addition to Recording Academy members, record companies are allowed to submit recordings for consideration, but are not allowed to vote.)
To be submitted for consideration by voting members, you need to meet some somewhat ambiguous criteria, but in general the basic rule is that your recording must have been released for sale with general US distribution between October 1 and August 31 of the eligibility year.
Blockbuster artists who are signed to a major music label face an easier path to Grammydom due to their exposure, their vast support team and the many industry connections that come with both. This is why an artist like Beyonce will inevitably win over the house band at your favorite bar. The path less taken (because it's virtually a 90-degree uphill battle) is to spread your recording virally throughout the labyrinthine network of Recording Academy members and hope that it catches on like Chocolate Rain. That means it requires a herculean marketing and PR effort, which is something that many smaller artists simply don't have the time or the manpower to handle on their own.
But maybe you're the exception. So here's what you do " become a non-voting member of the Recording Academy. Go to as many events in your chapter as you can possibly handle. And look for ways to market your recording to the people who matter. Example: Invite chapter members to a live performance and supply attendees with copies of your CDs for their GRAMMY consideration.)
Who knows, maybe one day you can trade that hairbrush in for a real mic and finally deliver your acceptance speech. And, if you're lucky, maybe Kanye will even let you finish.