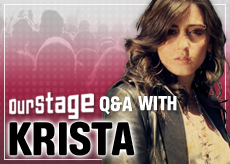 With one of the largest fan bases on OurStage and a Top 10 spot in the Pop Channel, J Records recording artist
Krista
is an inspiration to her fellow artists. After a hard-knock childhood in a rough Brooklyn neighborhood, this modern day Cinderella has gone on to work with legendary producer
Camus Cecil
(Gavin DeGraw, Chaka Khan, Tina Turner), to be signed by industry veteran
Clive Davis
and to open for
American Idol
winner
Kelly Clarkson
. OurStage sat down with Krista to discuss her eclectic musical style, where she has found her audience and what it's like when you score the record deal.
KB @ OS: I'm struck by the sincerity with which you blend styles of music, most strikingly your ability to move from soaring vocals to spitting a verse that can rival the hardest MCs. What has been your process in terms of developing these two sides of who you are as an artist?
K:  I never really focused on rhyming and singing as two different things. To me, music is based on feelings. Rhyming and singing are a part of the way I grew up. I grew up around a lot of people who rhymed and being the only singer, I started  spitting as well. I worked on it and got better and it just worked for me and with that I learned to write what I feel the music calls for.
KB @ OS: With a musicality that is evocative of so many genres of music- where have you found your audience?
K: Like my friends and most kids today we listen to everything. No music is just one genre these days.  I feel my audience is very broad. I range from different styles so that  I can connect with fans of all ages.

KB @ OS: How and where do you connect with fans as an emerging artist?
K:  One on one, like the high school run I just did in the Midwest, so I can focus my attention on each person individually.
KB @ OS: When and how did you get your "big break" in the industry?

K: After many years of hard work and dedication and writing and recording a really awesome record with my producer Camus, I kept my options open which led me  to  a once in a lifetime chance to perform for  Mr. Clive Davis. He was blown away by my performance and gave me the opportunity to take my music to higher levels.
KB @ OS: A lot of your fellow artists aspire to be signed to a record label. Some think that it gets easy when you're picked up. Can you set the record straight? What's happened in your career since signing to J Records?
K:   It's actually more challenging because there are higher expectations and complete dedication is needed. There's no room for error,  you have to know what you want. It's like the movie Dangerous Minds; the teacher gave me an A and it's my job to keep that A .
KB @ OS: What's in store for Krista in 2010?
K:  Big things! Being on tour with Kelly Clarkson this past summer has brought great opportunities. I plan on touring more and expanding my fan base and I am always writing and recording any chance I get. So new music is definitely on the way! :).
Check out Krista's exclusive live acoustic performance video of it here.