In today's music industry dominated by American Idol and a wide array of pop stars, independent rock bands must often try extra hard to break out. Unlike the cliched qualities of your typically pop rock group, My Favorite Highway is a dynamic quartet that brings new meaning to the scene.
Starting much like any other band, their aspirations could not change the fact that their career's future looked bleak. The band will be the first to admit that they were almost pushed to their limit and even considered giving up. After weeks of eating only peanut butter in the back of their tour van, the band decided enough was enough and it was time to take a different approach to writing music. David Cook (the band's main songwriter), "began writing furiously, crafting a series of hook-filled power-pop anthems anchored by keenly felt lyrics about what [the band] was going through." This classic case of "rising from the ashes" and overcoming adversity, won the band a long list of honors including two song placements on the MTV hit show, "The Hills," two different Alternative Press features, and most notably, a record contract signed with Virgin Records in November of '08.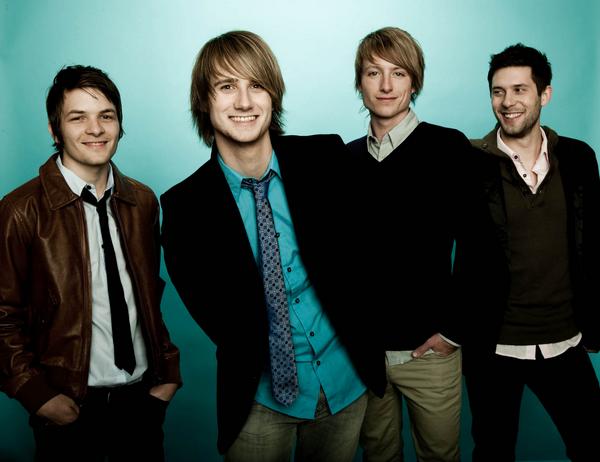 Following in the footsteps of bands like Yellowcard and the Click Five, this group's sound is chock-full of pleasing melodies, well-rounded instrumentation, and poppy song structures. Don't let this fool you though. My Favorite Highway brings a unique sound to the pop realm with heavy, driving rhythm, and to the rock realm with a radio-friendly melodic approach.With self-proclaimed influences including Coldplay, John Mayer, and Maroon 5, the band clearly has the right idea. In fact, their latest album, How To Call a Bluff (recently re-released on Virgin Records) was originally recorded with the help of producer Paul Barber and mixing engineer Jeff Juliano (John Mayer, Dave Matthews, and Jason Mraz).
After signing to Virgin Records, the band is still humbled by the opportunities presented to them. When asked about the recent record deal, lead singer David Cook had this to say:
"It's all very surreal. It's very much a 'dream come true' kind of experience. This is something that we worked so hard for so long to attain, and it's really cool to see all of our hard work pay off, so to speak. All of us are very excited right now, but we're just taking it one day at a time, we know we have a long road ahead of us."
You can catch My Favorite Highway this summer on the What Happens in Vegas Tour with The Cab, The Secret Handshake, Rocket to the Moon and fellow OurStage band, Anarbor.