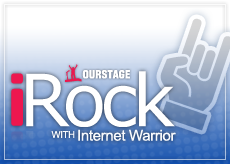 When some people think of Reno, Nevada, the popular Comedy Central show Reno 911 comes to mind. Others envision a city that sits in a high desert valley at the foot of the Sierras. Now the city has a new distinction. Reno's pop-punk group Wayward shines brighter than the lights on the Vegas strip. As noted by Anthony Raneri from Bayside and Kelvin Cruz of A Thorn For Every Heart, Wayward produces vocal melodies that will catch anyone's ear, as well as strong guitar riffs (not to mention great solos) and driving beats and bass. This is a band that everyone should definitely keep an eye on. With their new album in the works through Justin Powell Productions, the Nevada scene will definitely benefit from having such a hard working (not to mention close-knit) band. Be sure to check out their music at www.myspace.com/waywardmusic and leave them some love. I promise you, you will not be disappointed.
Without further ado, iRock is proud to feature WAYWARD as the "Artist of the Week". Check out the Q&A with Chris of Wayward below.
Enjoy!

IW: Where did you guys come up with your name?
CW: A lot of people think we have classic rock influence and that our name came from Kansas' "Carry On My Wayward Son." …Definitely, definitely not. None of us even like classic rock (haha). We just wanted a name that was memorable, relatively short and that looks good in writing. We weren't too concerned with meaning or anything like that. We were actually considering the name The Wayward Syndicate at first then realized it's really long and sounds like a generic, high school cheese-metal band (haha).
IW: When did you meet? (Was it love at first sight? Don't be shy, you can tell me I won't judge.)
CW: First of all, YES " it was love at first sight except Brad…we ralphed when we saw him the first time. Well, the official story goes something like this: Allen's dad Mark and Paul's dad Joey are members of a Beatles Tribute band called Rain, so those two have known each other literally since the day Paul was born. Allen and I (Chris) became friends in 3rd grade due to our mutual obsession with Goldeneye 64 (haha). Then Allen introduced me to Paul in 6th grade and then we started playing Green Day covers and whatnot. Then, after a number of years, band names, original songs, etc, we settled on our legit band"Wayward. Senior year of high school Paul introduced us to Brad when we were looking for a bassist. Paul had known Brad since middle school. And well, the rest is history. Super long, complicated story. And unfortunately none of it is terribly interesting, but there it is ( hehe).
IW: Have you found any advantages living in Reno, NV? How's the music scene in your area?
CW: I wouldn't say "advantages" per se, but being that Reno is primarily a hardcore scene, it's really cool not being a dime-a-dozen band in the midst of it all. Our scene is surprisingly very active. There are over 15 active and popular bands that play regularly, which is cool, but we try to not rely on our scene too much for shows and connections and whatnot. We always try and keep the bigger picture in mind (i.e. favoring out-of-town connections and show swaps, tours, etc).
IW: I see you're going to be recording with Justin Powell Productions in March. What's the direction of the album to come?
CW: Aww, we absolutely LOVE J Po. He's a fantastic producer and a helluva guy. The next release is definitely going to be very "us" with catchy hooks and still very pop-centered, but with the natural progression of things. We'd like to say it's more developed, more experienced and perhaps even a bit darker. Plus we're planning on bringing back an older song of ours called "City Sleeps" that's a lot slower than our last EP's offerings. We're going to revise it a bit and hopefully give this next release a lot of diversity. So all in all, it'll be catchier, it'll be darker and it'll be more diverse. We couldn't be more excited to share it with everyone!
IW: Are you guys going to use this album to shop around for a label with?
CW: Not necessarily. Not any differently than our previous one. With the way the industry is evolving, we like to think our approach is evolving as well. No longer are labels signing bands that submit a great demo. A lot of the success stories nowadays are bands being "discovered" in the online community via MySpace, Facebook, Purevolume, what have you. Not only are labels looking more at a band's track record and work ethic now, but bands that exemplify those things well don't necessarily need a label to be successful. So our approach is simple really: continue our self-sustaining life-cycle as a band (record, release, tour/shows, repeat) and whatever comes knocking on our door in the future will be discussed at that time. Until then though, we're content doing our thing, and we think that the right label with the right mind set will really get that should they come along.
IW: Have you been on tour? What was a memorable experience?
CW: We've been on a couple tours in the last year or two. Nothing too extensive, but enough to get our feet wet and get a feel for life on the road. A really memorable experience for us was when we went down to St. George, UT to play a show at the Electric Theater with some cool bands from Vegas and LA and after the show, their tour manager liked us so much he offered for us to finish the tour with them on the spot, so we cleared our schedules, repeated our outfits and had the time of our lives. We met a lot of really great people on that tour and we'll definitely never forget it. Honestly though, the four of us are such great friends (best friends really) that we have unforgettable experiences every time we're on the road together, no matter what we're doing.
IW: What are some good tips to give young bands starting out nowadays?
CW: The biggest thing I'd say is don't make your band's goal "getting signed." The industry is so different now and you won't last if you give yourself that false security in your mind that being signed will solve all your problems and make you successful. Focus on being your own managers, your own PRs, and your own tour-managers when you're starting out. That not only looks great to labels and venues, but it gives you a chance to see what it's like on the business side of things and you learn to deal with people and not be a sucker. That kind of knowledge and experience is really valuable.
IW: Take this section to talk about whatever you'd like. Sky is the limit!
CW: Check us out at www.myspace.com/WaywardRockMusic or at our BRAND NEW website www.WeAreWayward.com (launching soon). And stay tuned for our brand new EP Without a Light releasing this May.