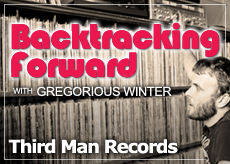 A mindset has swept the nation encouraging people to buy locally grown and manufactured items within their community. Everything from food to clothing to furniture is becoming more accessible within a small radius of someone's abode. Jack White, a man who needs no introduction, took this concept one step further when deciding the location for his record label and vinyl shop at 623 7th Avenue in Nashville, TN.
Beyond the burgeoning music scene, delicious pulled pork and comfortable climate of Nashville, White's location was influenced by the fact that the United Record Pressing Plant was a mere 1.6 miles from the store. For a record label that predominantly pushes vinyl for its artist's releases, being a stones throw away from the manufacturing center means Third Man Records is quite possibly the most green record shop in the country! Beyond any earth-friendly tags placed on him, White stands out in today's music scene as one of the biggest supporters of the vinyl medium, and Third Man Records has established a unique formula for releasing music that gets those tasty platters into the hands of the consumers while they are still hot off the press.

It all started with furniture. Before White became a now legendary guitarist, second half of the White Stripes and a record label owner, he re-upholstered furniture. Couches, chairs, loveseats. You name it, he put fabric on it. The business was called Third Man Upholstery and his slogan was Your Furniture's Not Dead. Fortunately for every person who loves music, things did not work out and White pursued a career as a musician. Fast forward 10 years (for this post need not elaborate on the history of one of rock music's greatest contemporary duos) to March 11, 2009 and the opening of Third Man Records in Nashville, Tennessee.
If Third Man Records was just a record store that exclusively sold label related vinyl, the concept would still be awesome. But White's musical laboratory is more than just a room with some records for sale, it's an all-encompassing production arena that is set up to record music, offer rehearsal space, photograph artists and sell their vinyl. The Third Man Records Web site states:
All of our records are produced by Jack White in his own Third Man Studio, then printed and pressed right here in Nashville. With our unique set-up we can have an artist recorded and photographed in one day and have records for sale in our store within weeks. In this way we are bringing a spontaneous and immediate aesthetic back into the record business.
Besides offering up quality analog copies of the White Stripes' catalog, Third Man Records has released a cornucopia of limited edition pressings from other artists that Jack White has either performed with or hand picked for distribution. Following the success and then inactive status of The White Stripes, White formed The Raconteurs and The Dead Weather with a slew of talented musicians: The Dead Weather also features members of The Kills and Queens of the Stone Age. Both groups have been given the royal treatment on wax via Third Man Records' unique approach to pressing vinyl, uber limited and exclusive releases. Cool gimmicks like 13 and 8 releases (as opposed to the standard 12 and 7), glow in the dark vinyl, tri-colored discs, hand-painted sleeves and Bizarro pressings all grace the catalog thus far, creating a frenzy among collectors to snatch up anything they can before it goes out of print. With some of the special discs only having a couple hundred copies pressed, fans must git while the gittin's good.
Since the inception of the physical location in Nashville, Third Man Records has been busy churning out 7 singles. Newcomers like Karen Elson and The Black Belles have jumped on Jack White's vinyl bandwagon while legendary rockabilly/country performer Wanda Jackson and roots-rock artist Dex Romweber have re-entered the studio at Third Man for some fresh recordings. All of these singles and LPs are available to order from the Third Man Records web store, as well as the making a trip to the shop in Nashville.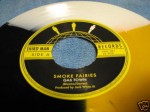 Whether this resurgence in vinyl is a passing fad or a genuine return to analog platters, Jack White has already carved out his niche in the market. Polyvinyl chloride flows through his veins and unlike the major labels that are using this return to vinyl to cash in on the consumers, White's focus is on delivering a product that is sonically superior to its counterparts, all the while having fun with creating insanely unique and ridiculously collectible records for his fans. Refreshing a slogan from his past, Third Man Records states Your Turntable's Not Dead so if you have jumped on the vinyl train, don't bother powering that player down for White and company have a slew of delicious discs ready for consumption.
Keep Digging!
-Gregorious-