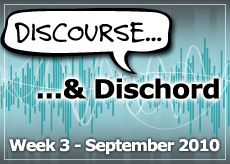 The Good
Eminem and Jay-Z rock Yankee Stadium
Part one of Jay-Z and Eminem's Home and Home Tour, which took place last week in Eminem's hometown of Detroit, was a success (to put it mildly). And Part two, which took place this past Tuesday at Yankee Stadium in Jay-Z's home turf, looks like it was just as epic, if not more so. Featuring repeat guest performances by Drake, Kanye West and Dr. Dre, the concert also featured surprise guests Swizz Beatz, Nicki Minaj and Coldplay's Chris Martin, who joined buddy Jay-Z for a medley that included snippets of Clocks and Viva La Vida. Check out the clip below"goosebumps on the house.
Ted Leo + Paul F. Tompkins = Bottled in Cork video
Lampooning the archetypal rise and fall of a rock star, this new video from Ted Leo is a real hoot, thanks to a comically rich performance by Paul F. Tompkins, who plays the part of Leo's would-be manager, Reginald Van Voorst. Enjoy the LOLs.
The Bad
Hootie and the Blowfish to get SC monument
It seems mean-spirited to throw this in the Bad section, but we didn't have room for it anywhere else. Honest. And even if we were griping about the expense of funding such a monstrosity (your words, not ours), it wouldn't change the fact that Hootie and the Blowfish are getting a big monument in Columbus, South Carolina. The band formed there on the campus of USC nearly 25 years ago, and went on to sell 16 million copies of their record, Cracked Rear View. The monument will be unveiled on October 21. Put that spray can down.
Weezer autotunes the news
If you have a sour Hootie aftertaste in your mouth, cleanse your palate with this video wherein Weezer autotunes current events. Catchy and informational!
The Ugly
George Michael sentenced to prison
George Michael was sentenced to eight weeks in jail and a five-year suspension of his driver's license after he drove his Range Rover into a Snappy Snaps photo store (real name) on July 4th. Somebody won't be singing Freedom anytime soon.
Miscellany