"Switchfoot" may be a surfing term, but it's also the name of a band that screams California pop/rock. Hailing from San Diego, the guys from Switchfoot have been releasing albums since 1996. While their lyrics are definitely influenced by their Christian roots, they've worked to define themselves outside of the Christian genre. Rather, the band has caught the ear of fans, critics and even music supervisors" Switchfoot wrote music specifically for use in a Chronicles of Narnia movie in 2008. We got a chance to speak with keyboardist/guitarist Jerome Fontamillas about the Chronicles experience and reflect on this past summer's shows.
OS: Lyrically, why do your songs seem to gravitate toward deeper and often literary references?
JF: John, our lead singer, writes most of the lyrics. He reads a lot of books. John and I actually kind of have this book club. We give each other books and suggestions to read, but he reads a lot more than I do. From being with him for over 10 years, a lot of the stuff that he writes is taken from personal experiences and what he's going through. He writes a lot about stuff he doesn't understand"whether it's politics, God or relationships. It's kind of like a journal of his life.
OS: Specifically, you've mentioned that Meant to Live is inspired by Eliot's poem The Hollow Men. How does the poem relate to the lyrics?
JF: I wouldn't know particularly, but what I know is that the basic premise of that song is that life is short. You should live it and make sure it counts. He's talked about the correlation with me before, and it seems like it's a little more of an abstract connection.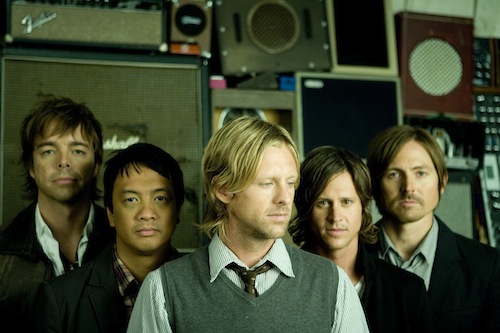 OS: In 2008, the band wrote a song for The Chronicles of Narnia: Prince Caspian. How was this process different for you as opposed to writing more standard Switchfoot songs?
JF: When you get offered the chance to write for a movie, they usually look at your back catalog of music to see if it will fit in. This is a special case, though because they approached us. They said, Hey, would you want to write a song specifically for this movie? That was a really great opportunity for us.
OS: Yeah. How did you guys actually approach writing process for this?
JF: All of us have read C.S. Lewis, especially the Chronicles of Narnia. When we got to the drawing board to piece that song together, the general theme of the whole Chronicles was what it derived from"the longing for a home. We kept that in the song. We didn't write it to make it specific, but rather wanted to make it more general to encompass the theme of all the Chronicles. It was really a great experience for us. C.S. Lewis has been a big influence in our lives. It was an honor to even dive into something like that.
OS: The band performed at the US Open of Surfing . Are you guys big surfers yourselves?
JF: Well, three of the guys grew up surfing. I picked it up a few years back and so did Drew. The term Switchfoot is actually a surfing term. It's a big part of our lives. Doing the US Open is going to be a great experience, because you get to watch surfing and then you get to play.We're kind of bummed, because we won't be around to see Weezer play it. We're excited, especially because it's in California so we'll kind of get to go home.
OS: Can you talk to us about the background of the Switchfoot Bro-Am and what's it's become?
JF: You're right, it's kind of like the Open. It's our annual charity event where we try to raise money and awareness for a local charity in San Diego called Stand Up For Kids. It's probably our favorite time of year, because you mix surfing, and music and you bring these kids from this shelter and have them hang out. It's a great day for those kids, and we feel very honored to be a part of it. We'd have Tim Curran, Rob Machado, etc. You've got some pretty great surfers coming and helping out to support. So it's an awesome experience.
OS: Switchfoot have a lot of associations outside of the music scene (the surf contests, your own MacBeth shoe, etc). How do these partnerships come about?
JF: You forge a partnership by going out there, playing and building relationships with the people you meet. MacBeth's office is actually a couple doors down from our recording studio. So, it was really cool to build a great relationship with them.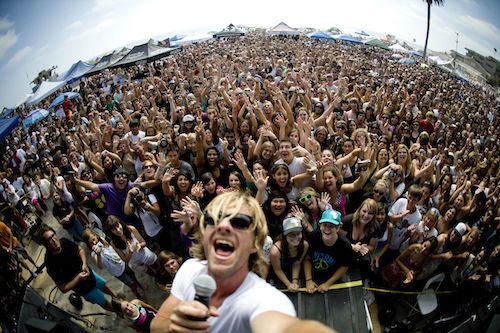 OS: The upcoming album Vice Verses contains material from your sessions for Hello Hurricane. Can listeners expect a similar album?
JF: We're hoping to push further, creatively and musically. Whether it's a natural progression from Hello Hurricane or not, you never know.  We're still planning how we're going to go about recording the album. We have an abundance of songs (like 90), and John is a writing machine. So we have new songs, and you're adding 20 or 30 into the mix. So it will be interesting.
OS: So are you guys planning on releasing that other material from the Hello Hurricane sessions?
JF: We're hoping to. There are a lot of songs. I'm not saying all of them are good, but we just have to dwindle it down to a regular amount of songs. We are diving into the idea of a double album or something. That's the greatest thing"that we're able to release these songs and other people will hear them. We're just trying to figure out a way to get these songs out there so people can hear them. A CD is one format, but there are other ways too.
OS: Can we expect to hear them live?
JF: We're not prepared yet to play the songs that haven't been on albums yet. I know John has been doing these after shows where he will go out after the show with his guitar into some corner somewhere and start playing our new songs. It's pretty awesome, because we're really excited about the new songs. We're getting geared up to go record them.
The release date for Vice Verses isn't set yet, but is expected early next year. Keep an eye out for an acoustic "after show" the next time you catch Switchfoot live!