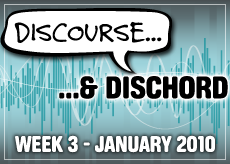 The Good
Madonna, others join Hope for Haiti Now concert
Jesus Luz's favorite cougar lady will join an endless roster of stars for the Hope for Haiti Now: A Global Benefit for Earthquake Relief, which airs this Friday at 7 p.m. CT/ 8 p.m. ET. The event will be telecast from New York, Los Angeles and London, and features musical performances by Haitian artists Emeline Michel and Wyclef Jean as well as Bruce Springsteen, Jennifer Hudson, Mary J. Blige, Shakira, Sting, Alicia Keys, Christina Aguilera, Dave Matthews, John Legend, Justin Timberlake, Stevie Wonder, Taylor Swift, Keith Urban, Kid Rock, Sheryl Crow, Beyoncé, Coldplay, Bono, The Edge, Jay-Z and Rihanna. Or, to put it another way, every musician in the world.
For more information on how to get involved, call 877-99-HAITI, text GIVE to 50555 or mail Hope For Haiti Now Fund, Entertainment Industry Foundation, 1201 W. 5th St., Suite T-700, Los Angeles, CA 90017.
OurStage will be streaming the Hope For Haiti Now telethon live Friday, January 22 at 8 p.m. ET.
PS22 chorus does it again
Sometimes it seems like the only news is bad news. If life starts getting you down, know that you can always turn to the kids at PS22 Elementary School on Staten Island to put a smile back on your face. Here they are singing Jay-Z's Empire State of Mind. Enjoy.
The Bad
Courtney gets maternal
You know you're in trouble when your actions leave Courtney Love feeling like a mother. Forget worrying about her own spawn, Love is more bugged out about pop's sloppy party girl, Ke$ha, who's just a few years older than her own daughter. In a long series of tweets on her Twitter page, Love voiced her concern that Ke$ha was being molded into something not her that will fail, and that she wants to save her. Frances Bean, say it with us: Physician, heal thyself.
Killers announce hiatus
The Killers have announced they will go on indefinite hiatus after wrapping up their tour in Australia in February. Citing exhaustion after 6 years of steady rocking, the group will take some time to focus on other areas of life that we normal people take for granted: watching Jersey Shore marathons in our living room with no pants on.
The Ugly
John Mayer's Rolling Stone interview
Listen to John Mayer as he spins a long and self-gratifying yarn about his near misses with Vegas strippers, how it broke his heart to dump dear old Jen (again) and his love for Rosie Palmer. Put it this way, when he's not stroking his own ego, he's stroking something else.
Miscellany