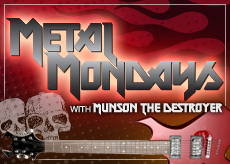 It's the new year. People are trying hard to keep up their resolutions, others have already tossed in the towel. For those of you whose New Year's Resolution is to check out all the best metal releases of 2010, well, I'm here to help. Here's a look at some of the bigger and more anticipated releases coming out early 2010:
Ironbound – Overkill (January 29)
Ironbound will be the fifteenth (as in 15, no joke) release from iconic thrash metal band Overkill, and there's no reason to assume it will be any different from their last few albums which is nothing to complain about.
Starve For The Devil – Arsis (February 9)
This tops my list for "most anticipated albums of 2010," and based on the first song released from the album (check out the band's MySpace page to hear), it sounds like it will be a very strong follow-up to 2008's We Are the Nightmare.
Snakes For The Divine – High on Fire (February 23)
A new album from Matt Pike's latest project, High on Fire (I have high hopes for this album after Death is this Communion) AND Sleep is playing Holy Mountain in its entirety at All Tomorrow's Parties Festival 2010 (in NYC). Looks like this could be a big year.
We Are The Void – Dark Tranquillity (February 24)
Dark Tranquillity is one of the few bands from the 90s who are still doing the "Gothenburg Metal" of old (bands like In Flames have deviated from that style in recent years). It's always interesting to hear new albums from the DT camp, as they always manage to stay fresh, even using and old sound.
Option Paralysis – Dillinger Escape Plan (March 23)
Option Paralysis is the fourth release from esteemed metalcore/craziness band Dillinger Escape Plan, the follow up to the game-changing Ire Works back in 2007. Option Paralysis looks to be another monumental catastrophe of sound that will bring joy to the hearts of men (and women).
So there's five albums you can look forward to banging your head to, and there are a whole lot more (likely) good albums coming out to round out the first quarter of the year. Keep your horns to the heavens, kids.