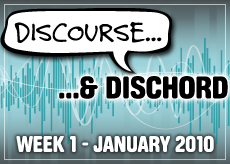 The Good
All the colors of the rainbow set to perform at this month's GRAMMYs
The list of artists slated to perform at the 52nd Annual GRAMMY Awards on January 31 reads like a box of crayons: P!nk, Green Day, Black Eyed Peas, Zac Brown and the always-technicolor Lady Gaga, who was added to the schedule this week. If the committee adds Yellowcard and Red Jumpsuit Apparatus, well, color us happy.
Kelly Clarkson joins Twitter, the masses follow
Don't be jealous, but Kelly Clarkson just joined Twitter two days ago and she already has more followers than you. See for yourself.
Michael Cera stars in new Islands video
You may not know who Islands are, but you probably know Michael Cera, who played the adorable geek on Arrested Development, the adorable geek in Juno and the adorable geek in Nick and Norah's Infinite Playlist. Cera tries out a new character (adorable druggie) in the new Islands video for No You Don't. In it, Cera pops some pills, jogs aimlessly, unsuccessfully climbs a tree and gets hugged by Elvis " not to ruin the ending. Watch it here.
The Bad
Katy Perry is off the market (again)
Katy Perry engaged to Travis McCoy? That's so 2009. Katy Perry engaged to Russell Brand " totally 2010! The American pop singer and her British beau announced their engagement this week following a romantic trip to India. (2011 prediction: Katy Perry and The Situation.)
The Ugly
Freaky Fruit
New Peaches video for Relax off her upcoming album I Feel Cream. Enough said.
Miscellany