The Gaslight Anthem is a band forging a combination of rock, punk, blues and folk while staying true to the standard "Jersey rock" sound. The band's second full-length album
The '59 Sound,
put them on the mainstream map, garnering comparisons to Bruce Springsteen. The Boss himself has joined The Gaslight Anthem onstage a few times which lead to the band earning support spots on some of Springsteen's shows, including direct support at the 2009 Hard Rock Calling Festival. While they've enjoyed a good deal of success both on and off the stage, they're still staying true to their humble roots. This year, they released
American Slang,
continuing to mark the band's road towards defining their own style of Jersey rock. OurStage got in touch with lead guitarist Alex Rosamilia and he shared his perspectives on the groups success and approaches in the studio.
OS: Your sound is an eclectic mix of rock, blues and punk. Can you pin point one or two early influences that you think really caused this?
AR: Personally, I would have to say that my earliest influences were bands like The Cure and The Smiths, and other bands of that sort.  When I first started playing guitar, I was obsessed with effects. Even now, my delay and reverb pedals are on constantly.
OS: The Gaslight Anthem has often been compared to Springsteen and he even jumped onstage with you guys a couple of times. What has the band taken away from working with The Boss?
AR: To be honest, I wouldn't really consider it "working" with "the Boss." Not to say that playing with Springsteen wasn't one of the most amazing experiences of our lives; but when your onstage even when time slows down, it's still only 3:09 of your life. I don't know about you, but it is a bit hard to learn anything in 3:09…
OS: Having been to a bunch of GLA shows, it seems that the band always manages to create a small-town environment. How do you pull this off now that you're headlining large venues?
AR: I think the motive's still there. I don't think that even though the places have gotten better that the emotion is any different.  We still treat the crowds the same.
OS: When you're touring through all these amazing cities, where do you find yourselves after the shows?
AR: In all reality, after the show we're usually traveling to the next one.  We're not really a "party group".  We leave all of that to "Donutz".  Unfortunately, I can't disclose his real name.
OS: The '59 Sound was received with a lot of critical acclaim. Did this create pressure for you guys when writing/recording American Slang to create an equally successful follow-up?
AR: At first, but after a while we decided it was best if we made this record for us.  The same way we always did. After that, things started to run a bit smoother.
OS: The band has mentioned that American Slang deals with personal things. Is there any one song that speaks best to this concept?
AR: It's really the whole album. There isn't a part that I think is more than any other….
OS: It seems that the band's sound has really evolved and finally solidified with this latest studio release. Is this where you think you'll stay moving forward for future releases?
AR: We'll always keep changing. There are very few bands who can write the same record twice.  It really helps a band, I think, to keep adapting.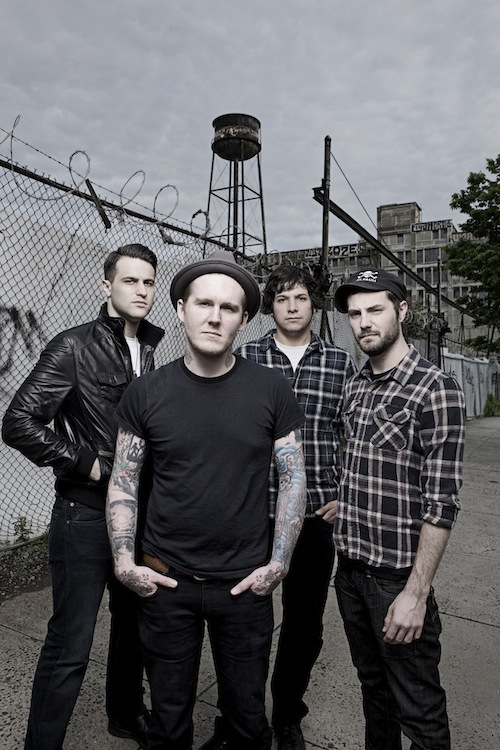 GLA is currently in the thick of the fall tour.
10/21 -Hammersmith Apollo, London, UK
10/22 -Southampton Guildhall, Southampton, UK
10/23 -O2 Academy, Bristol, UK
10/24 -Wolverhampton Civic Hall, Wolverhampton, UK
10/26 -E-Werk, Cologne, Germany
10/27 -Grosse Freiheit 36, Hamburg, Germany
10/28– KB, Malmo, Sweden
10/29 -Brewhouse, Goteborg, Sweden
10/31-Debaser Slussen, Stockholm, Sweden
11/2 -Tavastia, Helsinki, Finland