For most bands, being dropped from a record label is a devastating experience. But for Meg & Dia, it was a blessing in disguise. The indie pop group, founded by sisters Meg and Dia Frampton, took a break from life on the road and decided to self-record and release new material on their own. The band stayed in an isolated cabin to cultivate their creativity for their new EP, It's Always Stormy In Tillamook, which will be released on November 2nd. We caught up with Dia to learn about life off the road, the recording process for Tillamook and the band's future plans.
OS: How has the writing process for the upcoming release been different than the writing process for Here, Here and Here?

DF: We wrote a lot more together as a 5 piece band.  We usually just forced us to sit in a room all together at first.  It was uncomfortable because we weren't used to it, but after a while someone would start to play a riff or I'd get a melody in my head and we'd build off of it.  Also, for the songs I wrote all by myself, I tried to write lyrically more simple, because I've learned from my past that less is more.
OS: You wrote a blog about your separation from Warner Brothers and trying to find a job in New York. Is it difficult to transition back into a "normal" lifestyle after touring the world?
DF: It is very difficult!  In fact, today I was just talking to my roomies about how odd it is to find myself in a routine.  I get up at 9:30.  Shower, eat breakfast.  Go for a walk.  Commute to work, one hour away.  Work for 8 hours.  Take a break, in which I read and get coffee. Commute back. Watch How I Met Your Mother.  Eat dinner.  Read.  And go to bed.  It's all very odd.

OS: What do you miss most about being on the road?

DF: Of course, playing music, and then meeting so many wonderful new people.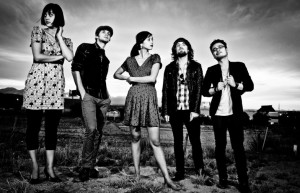 OS: The new material was recorded in a cabin in Oregon. What made you decide to go this route and is your music going to have more of a "homegrown" sound to it this time around?

DF: We wanted it to be really low key.  No chunky double guitars, auto-tune, perfect isolation. In fact, I think you can hear the dishwasher going in one of the songs. We set up the studio in a little cabin, so we were all just secluded in with each other.  There were no parties to go to like when we recorded in L.A.  No big industry shows or distractions.  We were literally in the middle of nowhere and it was awesome.

OS: You have always incorporated fictional stories into your lyrics, both ones that you've read and ones that you've written yourselves. What literature or music has inspired you the most in the writing for the upcoming release?

DF: I wrote mostly about my life and the things that have happened.  I still enjoy reading but none of the songs save for one, called "Teddy Loves Her," is actually about a book.  "Teddy Loves Her" was written actually about a romance novel that I wrote in my spare time!
OS: You perform acoustic often and you've even recorded some songs and videos in your bathroom, like "Halloween" and "June Gloom." Do you ever plan on doing an "acoustic only" tour or album?

DF: I think it is definitely a possibility.
OS: You'll be releasing a new record next year. Is the EP a preview of the album or are they two separate pieces?
DF:  They are two separate pieces.  There might be a song or two from the EP that end up on the record, but for the most part, they are their own people!
OS: Can you tell us about the tour you're going on?

DF: Yes…we are touring with opening bands that I think are great.  We are very, very excited.

Catch Meg & Dia on tour this fall with Joey Ryan and The Spring Standards:
Nov 09 – Salt Lake City, UT – Avalon Theater
Nov 12 – Modesto, CA – Modesto Virtual
Nov 13 " Bakersfield, CA " Jerry's (w/The Rocket Summer)
Nov 14 – Hermosa Beach, CA – Saint Rocke
Nov 15 – San Diego, CA – Epicentre
Nov 16 – Scottsdale, AZ – Martini Ranch
Nov 18 – San Antonio, TX – White Rabbit
Nov 19 – Woodlands, TX – Shadowplay Lounge
Nov 20 – Denton, TX – Hailey's
Nov 21 – Metarie, LA – The High Ground
Nov 23 – Orlando, FL – The Social
Nov 24 – Douglasville, GA – The 7 Venue
Nov 26 – Hoboken, NJ – Maxwell's
Nov 27 – Philadelphia, PA – Barbary
Nov 28 – New York, NY – Webster Hall
Nov 30 – Pontiac, MI – The Crofoot
Dec 01 – Columbus, OH – The Basement
Dec 02 – Chicago, IL – Beat Kitchen
Dec 03 – DeKalb, IL – House Cafe
Dec 04 – Minneapolis, MN – Triple Rock Social Club
Dec 05 – Des Moines, IA – The Vaudeville Mews
Dec 07 " Denver, CO " Soiled Dove