He's the man providing the bright, soulful hooks of two of this summer's catchiest songs, Travie McCoy's "Billionaire" and B.O.B's "Nothin' On You." Bruno Mars may be 2010's greatest overnight success story, but he actually got his big break behind the scenes as one of the songwriters behind 2009's smash "Right Round" by Flo Rida and Ke$ha.

Bruno released his full-length album Doo-Wops and Hooligans this week, and he's also the musical guest on Saturday Night Live tonight at 11:30 PM EST on NBC! In a few days, he will be performing live on some of Maroon 5 and OneRepublic's west coast tour dates this month, followed by some European dates with Travie and some US headlining dates in November. OurStage caught up with Bruno to talk about life leading up to international fame, his new record and his live shows.
OS: Most people know you best from your guest appearances on B.O.B's "Nothin' On You" and Travie's "Billionaire." They were both huge hits, but they're very different, musically. Is your new album mostly one style or does it span a few different genres?
BM: No, it spans a few different genres! [laughs] I just write whatever I feel. One day, I felt like writing a love song, and I came up with "Nothin' On You"… and the other day, it was a reggae song. Not too much thought behind it, I just want to like it, you know, as I'm recording it.

OS: In addition to being a vocalist, you're also 1/3 of a songwriting team called The Smeezingtons. Following the success of "Billionaire" and Flo Rida's "Right Round," do you have plans to continue writing for other artists as well?
BM: Yeah, we're actually really excited…we had a couple songs that came out. We did a song for Mike Posner, which is "Bom Chicka Wow Wow," it's a fun song. But we're really excited  about the song we wrote with Cee-Lo. "Fuck You," it's called.
OS: Yeah, Cee-Lo's great…he was on your EP.
BM: That's right, that's how we got introduced and we ended up working with him again and we came up with that little jam.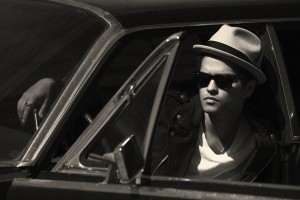 OS: So, you grew up in a family full of musicians. How did seeing your family members perform influence your own live show?
BM: A lot of different things. My father was a great drummer and I wanted to learn how to play the drums. My uncle was an incredible guitar player, he made me want to play guitar. He was a great singer, he made me want to sing. I just came from a live performance…that's more of my background. I've been doing that longer than I've been songwriting and producing…that's kind of my comfort zone. I'm a lot more comfortable being on stage than doing interviews [laughs].
OS: You play guitar, piano, drums…do you play all these different instruments during your live show or just stick with one?
BM: Yeah, well…we're gonna really fine tune our show. If it makes sense, you know…I'm not trying to go up there and look like a "boy wonder." If it makes sense for me to play drums in said song or piano in said song, we'll do it…but I don't want to do it just to self-indulge.
OS: So you're going to be on tour with Maroon 5 and One Republic, playing at some huge, sold-out venues. Besides the size of the shows themselves, how will this tour be different for you?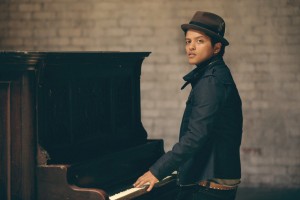 BM: It will be different for me because I've never done anything like it! [laughs] I've done a couple of stadiums with B.O.B…just two, actually…but I finally get to do my own thing, with a band. And I'm in great company. It's exciting.
OS: So you're going to be playing all solo material? Will you be adding anything else to your set?
BM: We'll see…that's the thing, every time we go on stage, I'm always throwing new things out to keep everyone excited and keep everyone on their toes, so it's never the same show.
OS: That's awesome.
BM: But yet, it's always amazing! [laughs]
OS: Of course! Now, you write music of all different styles, as we talked about before… so you must have a wide range of musical taste. Which three albums would you highly recommend to your fans?
BM: Wow, good question! Off the top of my head, I would say: get Michael Jackson's Bad album. I'd say get [Prince's] Purple Rain…and I'd say get Pet Sounds by The Beach Boys.
OS: Very nice choices. Have those influenced your writing this time around for Doo-Wops and Hooligans?
BM: Yeah, actually, they have.
OS: You've said that your EP was titled It's Better If You Don't Understand because you feel that people are constantly trying to fit you into one category. What would you like new fans to know about your music and you as a musician?
BM: I just want them to know how passionate I am about it and I'm really doing it because I believe in these songs…that's the goal, is to focus on the song and to think about the live show. So when you hear these songs, it's like…we're trying to make a movie. We want people to just get involved with this movie and want to come and see the movie.
OS: So before we wrap things up, I wanted to say, "Congratulations"… your song "Just The Way You Are" is Number 5 on iTunes today!
BM: Yeah, I'm just trying to beat that damn Katy Perry! [laughs] That's another thing that's just incredible…the people that are in front of me are like, Eminem and Katy Perry…
OS: That must be insane, to see your name on there with those names…
BM: Right, right. But…I'm happy!
Check out Bruno Mars on tour this fall:
10/14 – Save Mart Center, Fresno, CA
10/15 – Arco Arena, Sacramento, CA
10/16 – Viejas Arena, San Diego, CA
11/16 – Slim's, San Francisco, CA
11/20-  Martini Ranch, Scottsdale, AZ
11/23 – The Loft, Dallas, TX
11/24 – Warehouse Live, Houston, TX
11/26 – Pops, Sauget, IL
11/27  – Bottom Lounge, Chicago, IL
11/28 – Grog Shop, Cleveland, OH
11/30 – Paradise Rock Club, Boston, MA