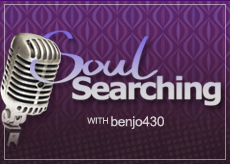 Self made and motivated to win, Shaun Mykals is this week's Soul Searching featured artist. Shaun's first project, Urban Sophistication, is simply an extraordinary album. You can hear the effort put into making the recording with each and every phrase. Every detail seems to be intentional, and is packed with soul, just like we like it! Shaun is clearly influenced by artists such as Marvin Gaye and Luther Vandross, but he brings his own style to their old school sound.
With all this talent, there is sure to be an impressive resume. Shaun's video Cold World was voted Best New Video of the Week by BET'Js viewers. He also was a back up vocalist for Patti LaBelle which brought him to the attention of 710 Muzic Group President, Natacia Harrison.
Want a taste of Shaun Mykal?  Check out his track "Leave Me Alone" below and let us know what you  think.