This was quite easily the best year of our lives and it's great to finish it here in New York City with you, relayed Mumford & Sons leading man Marcus Mumford to a packed house at Manhattan's Terminal 5 on Tuesday night. The English folk rock band just wrapped a sold out US tour in support of their debut album Sigh No More (released February 2010 in the US) which has been met with both critical praise and commercial success. The statement, which received ample applause, introduced the final number of the night, The Cave, to which the entire room clapped along. It was enough to give me chills.
The quartet"comprising Mumford (vocals, guitar, drums, mandolin), Ben Lovett (vocals, keyboards, accordion), Winston Marshall (vocals, banjo, dobro) and Ted Dwane (vocals, string bass)"were joined onstage by two horn players (Nick Etwell and David Williamson). As always, Mumford & Sons were high energy, rocking straight through from 9:30 until a little after 11:00. Said Mumford, We never imagined we'd play somewhere like this in New York. It was really kind of you to buy all the tickets. Beyond their evident talent for singing and songwriting, the Mumford men are also funny. So let's go fucking mental, Mumford implored, introducing Timshel. He immediately retracted, That was a joke actually. Fellow comedian Marshall quipped, Is that the best way to introduce the quietest song in the set? And so it went. Whereas usually banter between tracks leaves me cold and antsy, their speak was brief, easy and entertaining. Plus, that accent¦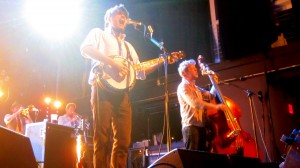 Two of their more notable and lively numbers included Dust Bowl Dance, during which the hitherto innocuous lights started to strobe and Marshall"who, by the way, sports a cross between a rat tail and a mullet" tossed his guitar to the ground,  and Little Lion Man, a chart-topping romp of a number introduced by Mumford with a coy, Shall we have a dance? (Yes, yes we shall. That or a riot.)
Perhaps most special of the evening were the unfamiliar songs introduced, some they'd been performing live longer than others but none yet recorded (an endeavor they explained they intended to embark on after touring). Said Lovett, We're gonna play some songs that we've been writing recently instead of songs that we wrote a while ago. I guess it's a long way around saying we're going to play you some new songs tonight. Cheers erupted from wall to wall. Among those pristine tracks were Below My Feet, Lover of the Light and Broken Crown. Of the latter they told us, This is our newest song that we've got. We wrote it in Denver, Colorado two weeks ago. The song is a darker work that, like many of their songs, starts out subtler and mounts to an explosive denouement. It's a scorcher with poetically poignant lyrics, as per usual. No complaints here.
The members switched instruments and moved about so often it was difficult to keep pace with who was producing which sound. That was especially so when opening band Cadillac Sky rejoined them onstage for Awake My Soul. The space transformed into a zoo of jolly gents! Both bands also collaborated with evening leader King Charles, singing a song that said opener wrote. Mumford summed it up by saying it's genuinely one of our favorite songs of all time.
As the song came to a close, King Charles commanded the mic to elaborate further: This is one of the first songs I wrote when I started playing country music with the boys from Mumford & Sons. Since then they've continuously flooded me with their full-blooded love. To thank [them] for all they have done for me, I'd like to give them this song, if they would like it. While the Sons are certainly in no need of handouts, the gift was so clearly special, a powerful handoff from one artist to another. Everyone, crowd and Sons, went wild.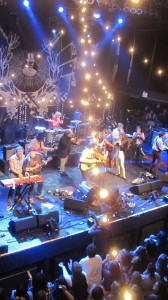 While I stand by my belief that their more intimate engagement (a sort of high quality hoedown) last spring at Webster Hall was better, for reasons both technical (sound quality, visibility) and intangible (their stomping was audible, literally shaking the East Village haunt), the doubleheader lineup at T5 was nothing short of a homerun hit. As one fan told me, [This show was] epic. Best concert I have ever been to. Ever. Indeed the enthusiasm throughout the whole 3-tiered venue was through the roof, and Mumford didn't hesitate to point it out (referring to the previous night's sold out performance at the same venue); You guys are way better than last night!  So there you have it, Tuesday took Monday. Ha.
They sure did go out with a bang. No matter; based on their skyrocketing popularity and, chiefly, their instrumental skill"not to mention the winning new tracks"poise yourself to pounce next time they jump the puddle. Given the opportunity, these fellas aren't to be missed.
[Editor's Note: To tide you over until the next tour, the band is releasing Mumford & Sons, Laura Marling and Dharohar Project digitally December 7th and on vinyl in 2011. More details available on their Web site].
By Nell Alk
Nell Alk is a culture and entertainment reporter based in New York. Her work has appeared in Paper Magazine, InterviewMagazine.com, Zink Magazine and BlackBookMag.com, among others. She also contributes to NBC's Niteside blog.