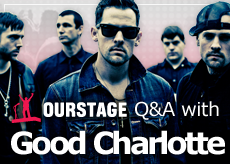 Bands can easily fade away like a passing trend, but Good Charlotte remain at the forefront of the scene they helped create a decade ago. The band, which includes now-celebrity twins Joel and Benji Madden, has released four studio albums and toured worldwide, while at the same time adjusting to life in the limelight and an ever-changing music industry.
Today, the band releases their brand new album, Cardiology, a record that was originally finished in January and set to release in March. Feeling unsatisfied with the final product, Good Charlotte returned to the drawing board and created a pop-punk record that they are truly proud of. We got the chance to speak with bassist Paul Thomas about life for GC a decade after the debut, being in a band with celebrities and the changes that occur when a young band grows up.
OS: The music industry has been through a huge transformation since Good Charlotte first started out a decade ago. Has it been difficult to adapt to the changes?
PT: Yeah, it's a lot different now than before, like you said. It's been difficult, but we're trying. You've got to do a lot of online work and a lot of touring. It's brought it back to like… it really matters about touring and building fantasies. Just hitting the road nonstop. It's cool because it's like the music has to be better to cut through now, it can't just be fabricated and thrown in your face.
OS:  One big change for the band is having two members become as famous for their personal lives as they are for their talent. Has that impacted the band?

PT: It is what it is, you know? They're just living their lives and we're still doing the same thing that we've been doing. It's been a good thing. We've been able to keep touring and doing our thing for ten years now. Hopefully we'll still be able to keep doing it for another ten.
OS: Joel started off writing lyrics about high school and now he's writing songs about his kids. Are you intentionally aiming your music to an older audience or is your songwriting more a reflection on where you are in your personal lives?

PT: That's just what it's always been about, what's going on in our lives. Talking about where we are. It's not like we're aiming it towards anything, it's just that's what's going on now. We're not in high school, we're having babies. The twins are really truthful with their lyrics, like when they talk about their lives and families…they just can't help but write about what's going on. If babies are being born, there's gonna be a baby song, you know it! (laughs)
OS: Do you have any plans for commemorating the ten-year anniversary of your self-titled record this year?
PT: We haven't really talked about that too much…we're all focused on Cardiology right now. But it's not a bad idea, maybe I'll bring it up! (laughs).
OS: It seems to be a big trend lately. A lot of bands are getting back together, doing reunion tours, re-releasing albums…

PT: I think it's a great idea. I hope all those shows do well for those bands. We've talked about something like that before but we definitely have not been focusing on that lately.
OS: Your last album, Good Morning Revival, was more of a pop record than your previous releases. Has your sound evolved again on Cardiology?
PT: I think pop has always been part of our sound, no matter what the albums sound like. The twins can't help but write catchy pop songs. The music to it is always changing. We're always trying to do something different. We don't want to do the same thing over and over again. I think Cardiology sets itself apart…I think every album is completely different. It's still Good Charlotte, I don't think any album doesn't sound like us.
OS: So it's still Good Charlotte, just a different take on it?
PT: Totally.

OS: Cardiology was finished awhile ago, but you decided to throw everything out and start over with a new producer and a new record label. What was the reason for that decision?
PT: We just weren't feeling it, you know? Things weren't feeling right.  We established a lot of good relationships with Sony and it was a peaceful parting. We were just ready to move on to a new label that would be a little more energetic and focusing on us instead of other bands. Capitol is really making us feel that way. We haven't felt this much love from a label since The Young and The Hopeless, so we're really excited. Things are hopefully winding up really well here and that's what we wanted. We wanted a proper setup for a release and stuff instead of everything just being pushed out there when we weren't ready, so that's why we took so long with this one.
OS: Some of the bands you've been on tour with recently were fans when your first record came out. What is it like to play shows with bands who grew up listening to your music?
PT: It's a lot of fun. They all told us they were fans every day! It was really cool. It definitely made me feel a little older…we're not the "spring chickens" on the tour buses. We started so young and we were always the youngest, but now that's just not the case. But it was cool. A lot of the bands made us feel really good about ourselves.
Pick up Cardiology, in stores and on iTunes now…and check out the music video for the first single, "Like It's Her Birthday" below!