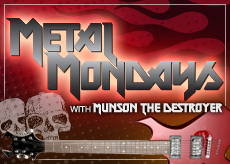 Though the metal genre has had many landmark years, no year in it's musical history matches 1990 in terms of legendary and influential record releases. At a time when metal was starting to explore heavier sounds, such as brutal death metal, and bands like Judas Priest were evolving, the incredible album releases across the metal spectrum was an integral part of metal's evolution. The year was epic in terms of both metal releases across sub genres and overall history.
For the new wave of British heavy metal, Judas Priest released their monster album Painkiller, which is considered to be one of the best metal albums of all time. It's a considerably heavier sounding album than most Judas Priest material, and certainly heavier than their most famous songs such as "Breaking The Law" and "Hellbent for Leather." Painkiller is the album in which Rob Halford finds his most sinister place, K.K. Downing finally breaks loose of the cheesier guitar riffs from the earlier days and Scott Travis adds more attitude on the drum kit. A true metal masterpiece.
The thrash world also had an all-time great album released in 1990 courtesy of Megadeth. Rust In Peace is a fairly short album, clocking in at just under forty minutes, but those forty minutes are densely packed with great riff after great riff, and blistering solos to spare. You also can't forget Dave Mustaine's incomparable voice, which is at its absolute best here.
That same year saw the debut release of the now legendary Atheist album Piece of Time, as well as Deicide's eponymous debut"both of which put a clear stamp on the death metal that would follow them. In a completely separate area of metal, Primus also released their debut album Frizzle Fry, considered by many to be their best album to date.
Splitting the top of the 1990 release charts with the powerful debut releases by Atheist, Deicide and Primus were bands like Pantera and Kreator. Both bands found the perfect formula for their very distinctive thrash styles, each releasing what was the best album of their careers (and still might be). Pantera's Cowboys From Hell is certainly the band's best known effort, boasting one of the most distinctive opening riffs in the history of metal. Even Bathory was on board with the year 1990, releasing Hammerheart, an album considered by many to be the first true "Viking Metal" album.
In terms new metal bands, the "class of 1990" list is pretty extensive: At The Gates, Converge, Kyuss, Opeth, Dark Tranquillity, Tool, In Flames, Fear Factory, Lamb of God and more. Many of these bands would go on to be extremely influential in their respective sub genres. In fact, the bands from Gothenburg (At The Gates, Dark Tranquillity, and In Flames) went on to define a scene and sound for Swedish melodic death metal for the two decade to follow.
The year was marred by tragic events, such as Judas Priest being sued when their song "Better By You Better By Me" allegedly prompted a kid to commit suicide (the band won the case) and the attack and ensuing paralysis of Possessed frontman Jeff Becerra. Still, with landmark release after landmark release, 1990 will go down as one of the best years in the world of metal.