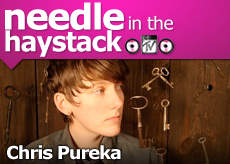 This week's Needle in the Haystack artist can often be found in the Top 10 of multiple OurStage channels including folk, acoustic, and solo performance. A lot of artists claim to be a breath of fresh air in the industry. Too often, this is just bluster. But after hearing Chris Pureka, there's a good chance you'll be the one making that claim. As Billboard put it, "For a woman who frequently performs solo and whose compositions are more quiet than clanging, Chris Pureka is making a lot of noise."
Pureka has a very distinct sound, led by her one of a kind voice, beloved by her ever-growing fanbase. Although the songs are often sad, even wrenching, you somehow can't get enough. Her music tends to break new boundaries, employing quirky recording techniques to support her insightful songs.
Take a listen to Chris' free download, "Wrecking Ball", below. Let us know what you think, and if you like what you hear. Tune in here for much more on Pureka.