Most kids in their early 20s spend the majority of their time in college classes or at 9 to 5 jobs, but the members of powerpop group Hey Monday spend their time touring the world and playing sold-out shows across the country. After performing on the full string of this summer's Warped Tour and releasing a new EP called Beneath It All, the band are currently co-headlining a fall tour with Cartel. We caught up with lead vocalist Cassadee Pope on what's in store for the band for the rest of 2010.
OS: This will be Hey Monday's first headlining tour since the release of Beneath It All. How is this tour going to be different from your last headlining tour?
CP: We'll be playing pretty much the whole EP. That in itself will add a whole different element to the live show. We'll have a bunch of old songs in the mix also. We're working on some really intense transitions between some of the songs the we think the fans will enjoy. We just want this set to bring the crowd into an alternate universe with us.

OS: Beneath It All was originally supposed to be a full-length, but you cut it down to seven songs and released it as an EP instead. Will you be playing any of the songs that were cut from the album on this tour?
CP: We won't be playing any of those songs yet. Eventually we will when it's closer to the next release. But we want to focus more on the material we've just released. Plus, fans can't really get into songs they've never heard. We want it to be a huge sing-a-long!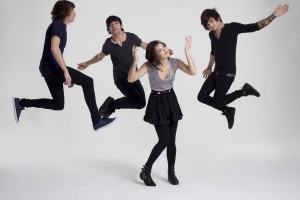 OS: You have done live guest vocals with All Time Low, Cobra Starship and Fall Out Boy, just to name a few. What vocalist(s) would you most want to join you on stage for a cameo, and for what song?
CP: I think having any of those singers (Patrick [Stump of Fall Out Boy], Alex [Gaskarth of All Time Low], or Gabe [Saporta of Cobra Starship]) join us on stage would be a huge honor. I've had Alex come sing with me during "Homecoming" a few times. I'd have Patrick come sing "Mr. Pushover" just because his soulful voice would really add a ton to that song. And Gabe could sing "I Don't Wanna Dance" with me, because it's a fun and upbeat song.
OS: You've been on tour overseas multiple times. How is touring in the US different than touring abroad?
CP: The fans overseas are so thankful for when we come through. American bands are so scarce over there, so they really show us the best time. Not to mention, the cultures are all so different. We've learned so much abroad.
OS: Cartel, The Ready Set, We Are The In Crowd and This Century will be joining you on the road. What are you most looking forward to about traveling with those bands?
CP: I'm a huge fan of Cartel. I actually wrote one of my first songs I ever recorded with Will [Pugh, vocalist of Cartel]. I love all the bands we're taking out. I can't wait to just hang out with everyone everyday, and watch their sets every night. I guess I'm looking forward to every aspect of touring with these bands!
OS: Even though your band members are still young, you have toured all over the world for the past two years. Can you give some tips to young bands going out on tour for the first time?
CP: I think sometimes, young bands who get the privilege to do such great things like tour get big headed. Just make sure to be thankful for what you have, and the opportunities you are given. You should always be confident in yourself and your music, but not cocky. Nobody will want to tour with a band who thinks they are the bees knees!
Catch Hey Monday on tour with Cartel, The Ready Set, We Are the In Crowd and This Century this fall:
November 9 – The Rave, Milwaukee, WI
November 10 – Station 4, Minneapolis, MN
November 12 – Marquis Theater, Denver, CO
November 13 – Avalon, Salt Lake City, UT
November 15 – El Corazon, Seattle, WA
November 16 – Hawthorne Theatre, East Portland, OR
November 17 – Great American Music Hall, San Francisco, CA
November 18 – Glasshouse, Pomona, CA
November 19 – El Rey Theater, Los Angeles, CA
November 20 – Epicentre, San Diego, CA
November 21 – The Nile, Phoenix, AZ
November 23 – The Door, Dallas, TX
November 24 – Emos, Austin, TX
November 26 – House Of Blues, Orlando, FL
November 27 – Culture Room, Ft. Lauderdale, FL