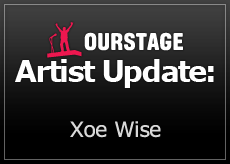 OurStage artist  Xoe Wise is not one to sit still. Having lived in various parts of the US and tried numerous hobbies and activities, she ultimately realized that her heart was set on making music. Her laid-back and soulful tunes have reached the Top 10 four times here on OurStage, including a Number 1 win in the Pop Channel last February.

Twenty-year-old Xoe has had a busy year. She filmed a music video, released a full-length record, played at the Microsoft Store and is slated to play a massive benefit concert for Michigan cancer foundation Believe in Miracles in 2011. We caught up with the quirky and passionate singer-songwriter to hear about her life, her music and how the two continually inspire each other.
OS: You started getting involved with music at a young age when you took up the flute. What eventually made you decide to pick up the guitar and become a singer-songwriter?
XW: As a kid, it's almost silly how many foods, instruments and dreams I tried out before I decided to stop eating everything on trees and stop pushing the concept that a kid could really grow up to be a mermaid. While this may seem semi normal for a little kid, the scattered  passions and curiosity that was in my heart grew strong into my high school years where my plans ended up towards a soccer scholarship in SC. Sometimes I've wondered what it would have been like…I've learned to respect the destiny of my realizations though…the love I feel for sound and art held intensity, leading it to surface past a million other activities I felt decent love for. I do remember my dad having a guitar in his woodshed and I would write songs for baby goats we were raising. As moving as those goat songs probably were, I don't consider that my origin of songwriting. Like everything, singing and songwriting's surfacing point parallels love. We can go through events and relationships bitter and confused, but at some point, even by contrast of another human being, love will surface. It's not that flute wasn't enough for me at the time, but eventually my heart fell deeply in love with music, so deeply that I wanted to ask it to marry me, scream it from the rooftops, or become a musician perhaps.
OS: Your music is very influenced by the beach, but you're currently living in Chicago. Without the beach close to you, how do you spend your free time in the city?
XW: This question is so important because I had to ask it to myself after moving here. In a lot of ways I've been able to write about the sea, and feel its intensity and importance from a new perspective. I have a huge interest in geographical relationships. Do some people need to be in the sun? Feel the salt? Humid air? Does it have to do with our ancestors or experiences? There are places, people, and smells that we feel at home with and sometimes it hits us later in life. The idea of a soul mate transcends into the world of geography. Where I sit and write music and who I sit with, are very similar questions. This long distance relationship with the East Coast has helped me know the world better through its resonating and haunting memories, therefore again I write. More specific activities in the city consist of open mics, running, spending time with my god moms and friends, making tea, writing, I daydream on my apartment floor a lot. I like finding weird spots and imagining who and what was there before. If this is too heavy for some of you who wanted to be my friend until you realized how much I'm absorbed in thought…I also like eating sour straws…no talking…just eating…walking around hardware stores and listening to music while I pretend to need something. In the end I always leave happy with a few random plants and bolts. I take some classes at a schoolhouse too.
OS: You recently released your first full-length album, called Echo. What would you say are some of the main themes of the album?
XW: Echo in the end became not only relevant to this album, but future albums, past albums, in fact all art. There were some great people bringing this album to life. My godparents helped connect this dream to reality, my mastering master Collin Jordan, Arthi Meera doing some great vocals, Chris Blasingame on pedal steel, and Ryan Neuschafer engineering. I collaborated with an amazing producer. His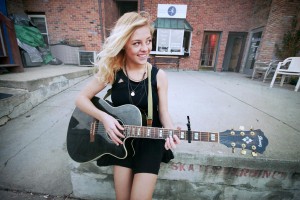 name is Ethan Stoller and he is one of my greatest friends. They say that Cancers and Leos don't get along but we truly had some solid musical chemistry. His wife, who is just as fantastic for listening to Echo for months, is also a Leo and they are are a beautiful couple.  Anyway, both of our minds helped to make this album with talk of heartbreak, some hope, falling  in love, a lot of talk about driving, summer in cars..some of it is for everyone's imagination. "This is our love, thought you should know, this is the sound of our love's echo" is a line from the song "Echo." It's hard to remember what happened, but somewhere inside of me, something knows, that love has an echo. A song is an echo of love. This is why it's hard to pinpoint themes; because essentially the songs are as far as I could go with labels of feelings. I do believe this album is a testimony to trusting love as well. Love can take us away from our comfort zone and sometimes things turn wild and unforgiving. Relationships can create confusion as to what we even want, and make us really dig into ourselves. Love also can take away this pain. In a round about way I think that represents how we HAVE to love ourselves and believe in ourselves.
OS: You have a music video for the song "Before Waves." Can you tell us the story behind the video?
XW: The song "Before Waves" regards a love story where two people fall in love by the ocean. The lovers do not realize their connection to the warm air and sea until returning to where they first met. I think we constantly do this in life. We feel something and then explore it more and watch our heart expand its senses to other beauties of the earth. Things we don't even realize impact us, will resonate in our souls and play a role in our destiny. The video was directed by Ryan Eakins with help editing from his friend Lev. Ryan and my God moms and my friend Casey contributed to stunning ideas like Ryan's concept of our walk creating words. The idea of our journey painting love in sand absolutely parallels this love story. Emily Blood is a character in the video who not only did beautifully on camera but is one of the most hilarious and life filled people I've met. Her presence added to what love is.
OS: Some of your influences include singer-songwriters like Joshua Radin and Ingrid Michaelson, which is clearly heard in your music. Are there any artists that people would be surprised to learn inspire you?
XW: I do have a pool of artists that inspire me. Jason Reeves, John Mayer, Andy Davis; they are all amazing. On a more surprising note perhaps I'll mention Yann Tiersen. I have a large fascination with accordions. When I first saw the film Amelie, I would blast the soundtrack on my way to surf early mornings. Also Joí£o Gilberto and Stan Getz give me quite the Brazilian comfort I need sometimes. On a completely different side of things, Jimmy Rodgers truly entertains me and makes me want to eat popsicles and play scrabble or something like that. I have a huge respect for some artists I've found along the way of really long YouTube journeys. Chelsea Lee, JayMay, are some brilliant upcoming artists. When I'm thinking of the sea I'm inspired by Mishka. People laugh at me for this one, but Taylor Swift and Frank Sinatra are absolutely on a ton of my playlists together…just the two of them…that's another story…love story…ha.
OS: You're playing a benefit concert in March with Zach Chance and Jonathan Clay. Can you tell us more about that?
XW: Yes this is a very moving and exciting event. Believe in Miracles is a non- profit organization based out of Troy, MI, that helps children fighting life-threatening illnesses by granting them wishes. The mission of Believe in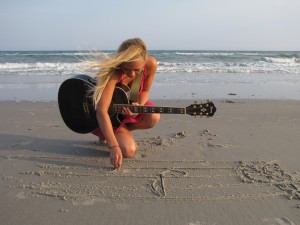 Miracles is to enrich the lives of these children by bringing joy and hope to their lives. On Wednesday, March 2, 2011, Believe in Miracles will host its 1st Annual "Believe in Miracles: A Benefit Concert" with performances by singer-songwriters Jonathan Clay, Zach Chance and myself in the O'Rena of Oakland University in Rochester, MI. The goal is to raise $15,000 for the organization and have 1,500 people from the university and surrounding communities in attendance. All profits will go directly to Believe in Miracles. I am proud to be part of this concert and am looking forward to being a part of art's healing ways. You can also get more information on the Facebook event page.
OS: You also played at the Microsoft Store. How did that opportunity come about? How did you feel about playing on the same stage that John Legend and Colbie Caillat have played on?
XW: The Microsoft store was so much fun. All the staff treated me wonderfully during their grand opening weeks where they were featuring musicians. My manager reached a development specialist for the store and we went from there. There may be a future appearance there as well. It's fantastic to have had the opportunity to play shows where I feel connected to great artists like Colbie and John. All three of us have been best friends since the third grade where we would do word searches and jigsaw puzzles together. Just joking…and I'm not sure that third grade is a jigsaw puzzle kind of age anyway.
OS: Are you a Mac or a PC?
XW: (Laughs) PC.
OS: Is there anything else you'd like to say to your fans on OurStage?
XW: Well, I think it's important to live a romantic life. I'll send that out to everyone. Be romantic in everything you do. If you're picking a flower, treat the flower nicely. If you're walking across the street talk about the beautiful eyes you see. Treat yourself this way too. Tell lots of knock knock jokes.
Check out Xoe's video for "Before Waves" below!