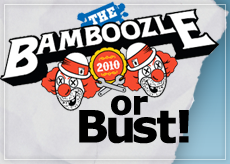 Here it is, OurStagers! Sunday's quickie coverage of The Bamboozle. Got some sweet interviews for you to check out, including two from OurStage artists Death On Two Wheels and Thomas from Lovedrug. Pay close attention around 05:00 of the video when Rob stumps Piebald with a query that is "probably one of the best questions [I've] ever heard anyone ask [us]."
Didn't catch Saturday's coverage? That's okay. Check it out here, as well as clips from live shows on OurStage's FanCam.
We hope you've gotten a kick out of all our coverage, especially our tweets. If you weren't following along on Twitter, shame on you! Luckily, we'll give you a second chance. In just one month, we'll be live-tweeting all over again from Bonnaroo! For now, take in the video below, follow us on Twitter and we'll see you soon!