Back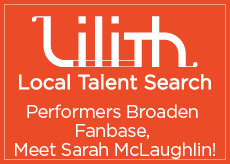 in April, OurStage partnered with Lilith to give female artists across the US and Canada the opportunity to perform at the famed festival as it makes its way across the country. Founded by GRAMMY Award-winning artist Sarah McLachlan along with Dan Fraser, Terry McBride and Marty Diamond, the festival that features female-fronted bands and solo acts has drawn millions of fans since its inception. Over the years, Lilith has hosted artists the likes of Sheryl Crowe, Erykah Badu, Jewel, Queen Latifah and The Pretenders.
Winning OurStage artists Ashley Matte, Annie Bethancourt, Terra Naomi and Xolie Morra recently performed at their respective tour stops on stages up and down the west coast. We had the opportunity to catch up with them to hear about their experiences on and off the stage. It's clear from their responses that the atmosphere at the festival is one of a kind, one that embraces the fans and the artists alike. People kept making a point to stop me throughout the day and tell me they loved my music," explains singer/songwriter Annie Bethancourt.  "They said some of the most encouraging things I have ever heard about my songs, and made me feel like I belonged alongside these incredible female musicians. Their positive words and the graciousness they showed will stay with me for a long, long time.
For Ashley Matte, the experience sat her shoulder-to-shoulder with her biggest inspiration, Sarah MacLachlan. As a young teenager I followed Lilith up the east coast with my uncle and have been a HUGE Sarah McLachlan fan. She was the reason I started to play and take an interest in music. So to be a part of something she created was unbelievable. Whether through press coverage, CD sales or increased gig attendance, playing the festival proved to be a great source of exposure for the winning performers. I've picked up lots of new fans," says Matte.  "I played a small venue the night after and it was packed. It's my regular Thursday night spot and I think the staff wasn't quite prepared!
Singer/Songwriter Xolie Morra even bumped into a few of her OurStage fans at her set in Seattle. We had a huge response from the OurStage site¦many of the people who came up to me after had seen us on OurStage and had participated in the contest.  The buzz was big after the set and we have gotten tons of emails. Finally, when we asked Terra Naomi about her experience at Lilith, she summed it up in one sentence. "The crew was warm and welcoming, the audience response was great"everyone seemed really happy to be there, and really excited for the day"and there was a strong sense of community among the audience, crew and artists."
The festival continues throughout the summer, featuring more OurStage winners at every stop, and providing more opportunities for independent female artists to be heard. Lilith Fair continues to stand as a testament to the strength and community of female musicians and their fans.