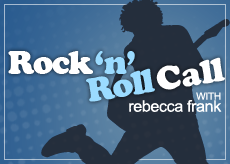 Welcome to Rock 'n' Roll Call! This blog series will feature reviews of albums and concerts from the best rock artists on OurStage, as well as interviews with both local and national bands. So be sure to check back to hear the latest in the rock community. Roll call, please!
For the first post, OurStage would like to introduce you to promising prog-rockers Await Rescue.
Await Rescue have solidified their position among Boston's best acts with their latest release, the bonus edition of their Hold The Ground EP. The EP opens with a new track, "Fool My Eyes," as frontman Johnny Cutulle's begs listeners to "look alive" over drummer Matt Morse's ticking rhythm.  The song soon explodes with the guitar work of Andrew Morse and bassist Jacob Yackshaw, providing an engaging introduction to this eight-song collection.
Peppering the familiar sound of bands like the Foo Fighters and Incubus with experimental twists and turns, Await Rescue refuse to hold back musically or lyrically. Cutulle even calls out his fellow rockers on the track "Clipped Wings," as he growls, "you're all the same/clip your wings and tell yourself that it's all for fame."
The band will be playing various shows around the Boston area this summer, so be sure to check them out if you can! You can also download Hold The Ground for free at their official website.