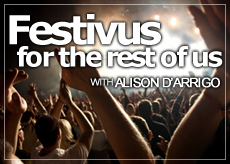 Last weekend was the 9th year of The Disco Biscuits self-titled Camp Bisco, a festival heavy on "trancefusion" or "livetronica" music in upstate New York. But one of the great things about musical festivals is that with every passing day a new one starts in completely different areas of the country, catering to completely different genres. This weekend we turn our attention to the world premiere of HullabaLOU, a 3 day festival with 5 stages and over 65 acts held at Churchill Downs in Louisville, Kentucky. As such, the target audience and lineup is a smidge different than last weekend's consciousness-expanding Camp Bisco.
As with most things, a contributing factor for festivals is location, location, location. Think the vast mountainous hills of Bonnaroo's home in Manchester, TN, or the sweeping deserts of Indio, CA for Coachella. So it seems only fitting in choosing a Kentucky location for a festival that the famed Churchill Downs racetrack wins out. HullabaLOU goes further back than just trying to bring a festival to the music lovers of Kentucky. The good folks behind the festival, Churchill Downs Entertainment Group, hope to launch HullabaLOU into the Kentucky Derby of music festivals. While not a traditional concert venue, Churchill Downs hosted the Rolling Stones in 2006 and the Police the next year.
While introducing anything new in this economy in the hopes to turn profit is an tricky game, HullabaLOU has a couple cards in their deck that could help ease the transition from new kid on the block to festival mainstay. Specifically, they're forgoing a the bill chock full of indie and emerging artists for a lineup made up of tried and true headliners, including Bon Jovi, Kenny Chesney and Dave Matthews Band.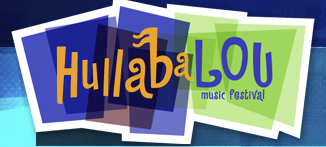 But where does one get the money to host such hot headliners? Easy. Churchill Downs isn't simply a field in the middle of no where requiring millions upon millions of dollars of stage construction, equipment, amenities and manpower to carry it all out. HullabaLOU is taking place at a previously established venue that doesn't require outrageous construction costs. And while most festivals operate on a revenue model of general admission tickets enhanced by VIP upgrades and amenities, Churchill Downs will take advantage of the draw resulted by these headliners by making money off of a huge number of reserved seats in the existing grandstand, supplemented by general admission seats on the infield. Production expenses for HullabaLOU will continue to be mitigated due to the recent installation of lights and electrical feeds at Churchill Downs, after the grounds began hosting racing 6 nights a week this year.
HullabaLOU kicks off tomorrow (July 23rd) with a performance by local veterans Brushfire starting at 1PM on the Bluegrass stage. Friday will also feature performances from Exile, Rick Bartlett's Rockin' Soul Revival, Sam Bush, Gloriana, Blood, Sweat & Tears, Colbie Caillat, Train, Gladys Knight, Doobie Bothers and Bon Jovi.
Saturday features artists include Relic, Joan Osborne, John Kay & Steppenwolf, Gov't Mule, Ben Folds, Sara Evans, Al Green, Huey Lewis and the News, Jason Aldean and Kenny Chesney.
Sunday wraps things up with OurStage artists Taddy Porter, Tonic, Justin Moore, The Avett Brothers, The Black Crowes, Loretta Lynn and a trifecta of guy-named bands"Zac Brown Band, Steve Miller Band and Dave Matthews Band.
Ticket prices and admission varies, so be sure to check out all the info on their site.