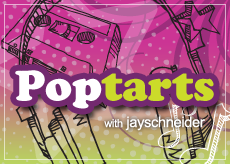 In the vast sea of singer/songwriters, it's hard to make a name for yourself. It's even harder to discover new artists that hit the mark. This week, we'll make it a little easier for you by directing your attention to the piano-driven, hook-laden music of Andrew Varner.
Hailing from the Columbus, OH area, Varner's music packs an upbeat punch. He takes a refreshing step away from the acoustic guitars so stereotypical of male pop artists. Rather, you'll find his music utilizing bouncy piano phrasing, heavily process guitar sounds and even the occasional organ. His voice remains the focal point as he presents playfully sarcastic lyrics and uniquely memorable lines. In his own words, he wants to paint a picture without giving too much away.
Varner frequents venues across Ohio and Tennessee, dividing his time between the Columbus and Nashville areas. His most recent release, the Make Believe EP has put this pop artist on the map. He's a powerful artist with strong stage presence that has participated in benefit concerts (most recently to help raise money for a local cancer victim), festivals and local fairs. He was even featured as OurStage's Ernie Ball: Singer/Songwriter prize winner in July. Check out his OurStage profile and pick up his EP. You can also head over to his web site for a few free downloads.