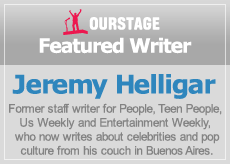 Twitter, it gets stars into trouble. Big trouble. In March, Justin Bieber's manager was arrested for not tweeting to discourage fans from descending on the mob scene that was a Bieber mall appearance on Long Island, New York. That was just about the time Chris Brown was re-opening his Twitter account following three months of inactivity due to an embarrassing tweet tirade that accused U.S. retailers of conspiring against him by not stocking his latest album, Graffiti. A month later, David Archuleta was accused of being homophobic after tweeting first and thinking later. Meanwhile, Britney Spears, Lily Allen and even U.S. President Barack Obama have all fallen victim to various Twitter hackers, one of whom spread a rumor from Spears' account that she had died.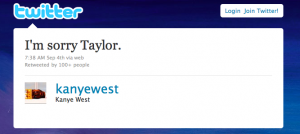 You'd think by now celebrities would be more wary of Twitter, especially Kanye West, quite possibly the artist most likely to publicly put his foot in his mouth. Yet the rapper, and so many of his fellow pop stars, can't stop till they tweet enough"reaching out to fans and to each other. In the last week alone, West used it to apologize to Taylor Swift (whom he "follows" on Twitter), presumably for interrupting her onstage at last year's MTV Video Music Awards, to give props to fellow rapper Lloyd Banks and to declare his favorite unit of measurement "a shit load." But his most revealing Tweet of all: "I just told Mike Dean put some the soulful drama juno chords on that new La Roux track … Don't tell Elly I'm messing with the beat though." Who knew West was down with the "Bulletproof" duo?
And what did La Roux tweet about this past week? On September 6, they, too, paid tribute of sorts to Taylor Swift, quoting one of her hits: "Today was a fairytale, you wore a dress I wore grey t shirt." As for Swift, her recent Twitter activity includes raving about going to see Paramore and New Found Glory in concert in Nashville, sending messages to Perez Hilton, Miranda Lambert and her mom, and revealing her favorite rap song of the moment. Drumroll: It's not West's "Power." "I'm so in love with that new Nelly song," she shared on August 25th. Sorry, Kanye. Maybe next time.
Jeremy Helligar is a former staff writer for People, Teen People, Us Weekly and Entertainment Weekly, who now writes about celebrities and pop culture from his couch in Buenos Aires.