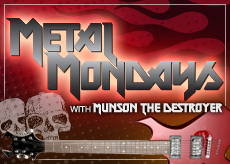 Deeply rooted in the greater Boston area is a niche scene known to some as "post metal" or to others as "sludge" metal, popularized by bands such as Isis and Pelican.  In close style proximity to these bands is Voyager. With their fearless leader PJ Mion, the band has seen some adversity in recent years but continues to move forth as self-proclaimed "Astronauts." Check out what PJ had to say regarding the band:
OS: You've had some lineup changes recently, losing/gaining two members. How have the newest members been fitting in thus far?
PJ: We've actually had two lineup changes since when we originally got started and wrote/recorded our self titled EP"new bassist and second guitarist both times.  After Ryan & Luke left around the same time back in 2008, our friends Sal and Matt jumped in to help us out, keep us playing shows etc.  Both of those guys had been playing in a great sort of progressive indie rock band called The Locomotive Espada at the time that had been put on hold since their singer was moving to LA.  They both fit in really well with the band, but unfortunately with them living in NYC and working full-time it became logistically difficult to practice and write with us up in Boston, so we ended up getting Brian [Barbaruolo, bass] and Sean [Harrington, guitar] in the fold in the spring of this year so that we could start playing shows more frequently and fast-track finishing up the writing for our new record, which has been a long time coming.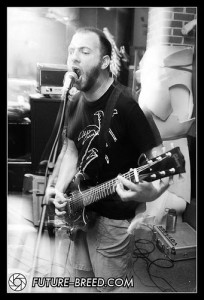 OS: Any updates on the forthcoming recording session at Planet Z for the new record?
PJ: I actually just firmed things up with Zeuss today, and it looks like we'll begin tracking partway through the first week of October, with plans to finish things up at the end of the month and possibly into early November.  He has a lot of larger projects on his plate (like mixing the new Crowbar record, which I am quite excited to hear will be getting finished up relatively soon), and all of us are juggling different work schedules and all of that, so scheduling hasn't been real easy, but we are all looking forward to finally getting the ball rolling on this thing, working with such a well-respected engineer, and to see what type of sounds we can get since our new material is fairly different from that of most bands that he works with.
OS: Are there any plans in the works for more extensive touring outside the Boston and NYC areas when you're done recording?
PJ: Doing some real touring in support of the new full-length is certainly something that we are hoping to do, and the tentative plan at this point is to try to find a time that works for everyone in early 2011 to make it out to the west coast for at least 7 or 8 days (which we were trying to do this summer but couldn't quite work it out).  Before then we have been talking about trying to set up 3 day weekends here and there so that we can make it down to Philly, Jersey, western NY, etc. which we haven't ever done too much of.  In all honesty, while all of us are pretty much out of school and working real jobs, I'm probably the biggest limiting factor in our ability to tour"I'm a geologist for the Army Corps of Engineers and it is hard to free up long periods of time off with all of the field work that we have going on.  Sometimes life gets in the way of what you really want to do.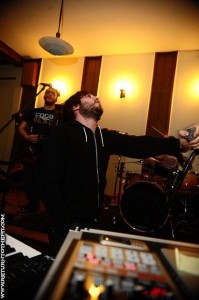 OS: You recently released your split with fellow sludge metal band Monolith as a vinyl-only release originally (on Science of Silence) but have since made digital copies available, what was the thought process behind this?
PJ: All facets of the split LP release were handled by the label, including the limited shirt preorder packages and the digital version.  I can't speak for them, but I'd imagine that while they are planning to stick with vinyl-only as far as physical product goes, realistically not everyone has a record player or equal interest in the analog medium, and there are bound to be people that are willing to pay to get the songs but don't want to spend extra for the LP (and the amazing artwork that comes with it) if they aren't going to use it or aren't interested in collecting.
OS: Why a limited pressing clear vinyl?
PJ: The limited pressing was the way the release was planned, and I believe that high quality, collectible limited pressings are going to be what Science of Silence is looking to do as a label for the most part.  The clear vinyl was what we wanted, since it looks awesome in conjunction with the rest of the artwork, and Marc &; Tim (who run Science of Silence) were very accommodating with letting us run with our ideas for the layout and overall package.  They are great guys to work with, definitely want to take a second to thank them and to tell everyone reading this to check out their second release which is out now"Constants' If Tomorrow the War, which is easily one of the most epic things I've heard in a while.  Another great Boston-area band well worth giving a shot.
OS: Tell me about the video for your song Avulsion. Was this a planned thing or a fan tribute?
PJ: That video was created by a guy named Shawn Kilmer, shot fully in HD, basically just a bunch of cool scenes that he put together to go with the song.  It was unplanned, but I've been in contact with him a number of times over the past couple of years, and it was definitely cool to see an artist take something that we've made and create something on their own to compliment it.  People can check out his other stuff at his Web site.
I also want to get in a quick plug for our singer Devin's screen printing company that he runs with his brother Tom, Portal [who did the cover art for the Monolith/Voyager split LP].  I should also send out a shout to Ben from our new label, Creator-Destructor who is a great guy and has been good with putting up with my delayed responses to things.  Lastly, thanks to Munson the Destroyer for the interest and the questions.
Check out the video for "Avulsion" below:
If you're interested in purchasing the split that Voyager did with Monolith, you can order if from here, but you better order fast because it's limited to 500. Otherwise, you can get it from the iTunes Music Store.