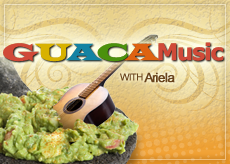 Here is a question for you: Do you have to be Latin to play Latin?
Of course not! To prove my point I am dedicating this post to a group from Montreal who performs Latin music like any native Spanish speaker. Maybe even better¦
I am talking about Christine Ann & The Bassalindos, an acoustic world pop multilingual gem from Montreal, Canada. They have gotten rave reviews from OurStage fans by mingling pop, folk and sometimes jazz with Arabic and Latin elements. Their music has been described as rhythmic, exotic and sexy. No wonder they've been dominating the OurStage Latin and World Charts during the past few months.
So who are the Bassalindos anyway?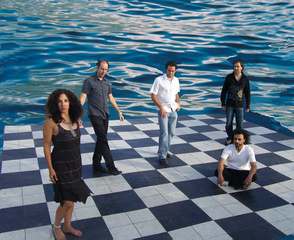 Lead singer and founder Christine Ann Atallah describes herself as a Mediterranean Diva of the snowy North. The truth is, there is nothing cold about this star, who fluently speaks and performs in four languages, and made her first television appearance at the young age of four-years-old.
Danny McLaughlin is the brilliant francophone guitarist of the Bassalindos. Along with Christine, he is the main songwriter for the band, and the pair collaborate on the creation of material for the albums and live shows. A native of New Brunswick, he also co-arranged and co-produced the Bassalindo's album Escapades, which is featured in a permanent exhibit at the International Peace Museum in Samarkand for the Peace song "Salam".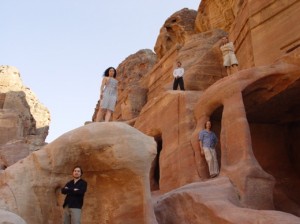 Franí§ois Lalonde is the bass master and one of the original members of the Bassalindos. He plays both the acoustic bass and electric bass with equal ease and virtuosity, and is involved in the musical direction of the band. Along with Lalonde there is drummer Mathieu Tessier, an energetic and dynamic player continuously in demand in the four corners of the globe. He plays in varied styles ranging from: jazz, blues, funk and pop.
Last but not least is percussionist, Oud, eastern flute and back up vocalist Firas Haddad"who also plays a variety of instruments like the tabla, the rek and dahola among others. The multitalented Firas has composed alongside Christine and is a skilled studio programmer. He comprises the major element of the eastern composing and arranging team for the Bassalindos.
You see? Who said you needed to be born in Panama or Costa Rica to perform original songs with a deep Latin touch? Multiculturalism is, in fact, one of the main characteristics of our music, so let's celebrate our differences and enjoy together the delicious mixture of flavors that is la música Latina. ¡Provecho!