We've tried not to get too involved in the whole Rebecca Black fracas that's been brewing on the Internet for the past few weeks. It's been hard considering that for a minute there Black was seemingly plastered onto every single Web site on the web and her song "Friday" was being streamed simultaneously by every human being with a broadband connection on the planet.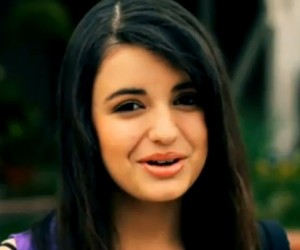 However, now that things have died down a bit we can take a step back and start really looking at the career of Rebecca Black. Though she's post-ubiquity, don't think for a second that we're done hearing from Black. In fact, she's been planting the seeds to turn her fifteen minutes into a legitimate career. Given how fast things have been moving for her it can be hard for anyone to track her trajectory. And because she is an Internet phenomenon, it's tough to parse through the heresay and the rumors to determine what's really happening and what isn't.
Just know that OurStage Magazine is here for you.
To help cut through the B.S., we've decided to share a few of the facts about the young Rebecca Black and her nascent career. We're also going to throw in some rumors* of our own is as well. Who says we can't have a little fun fun fun of our own?
Revelation: Rebecca Black is suing Ark Music Factory
You'd think for basically making her career, Black would be a bit more grateful towards the guys at Ark Music. But what's this? Black and her mother Georgina Marquez Kelly are suing Ark over copyright infringement? Shocker. At least if Rebecca Black was getting all of the money from the single, a pretty good sum of money by the way, she said she'd donate it all to Japan relief. Good for her!
Rumor: Rebecca Black has signed with Universal
Rebecca Black did sign with… someone. She's now working with a big time management team and Ark CEO Patrice Wilson aka Fat Usher aka that rapper in the "Friday" video (!) did state that she was no longer with Ark, cryptically stating that she was now signed with somebody else. But who? Why not Universal, already the home of fellow rising pop star Jessie J, fellow role model to young women Taylor Swift and Black's beloved Justin Bieber (seriously, she has a Bieber shrine). She'd fit right in.
Revelation: Rebecca Black is working on her full length debut album
Not one to rest on her laurels Black is already working on her full length debut at Flying Pig Productions. She's also got her next single slated to come out in the near future titled "LOL". The chorus of the song? "BFF you make me LOL". Inspiring.
Rumor: Rebecca Black's new album will feature guest spots from Eminem and Snoop Dogg
Rebecca Black's connection to rap is already known and she recently received a blessing from Snoop Dogg himself. So it shouldn't be surprising that in an effort to boost her artistic credibility she will be teaming up the Doggfather and shock rapper Eminem on the LP. When asked about the move, Black was quoted as saying she was "tired of all the fake ass bitches hating on her." Who knew she was so hood?
Revelation: "Friday" might not be the best song in the world but people love to cover it
Say what you will, but there's no denying that for a disposable fluff-pop single, "Friday" has got some legs. It's no revelation that Rebecca Black is obsessed with the Biebs (she is a teen girl) so it must've been extra special when she heard his rendition of her big hit. And by rendition we mean a few bars inbetween songs at a show in Nottingham. Is a collaboration between the two stars imminent?! No, no probably not.
He's not the only one to get in on the act. Late night funnymen Jimmy Fallon and Stephen Colbert also got into the act on Late Night with Jimmy Fallon. The song got an appropriately epic treatment with The Roots providing the instrumental muscle and the immortal Taylor Hicks of American Idol fame, who we didn't know could play the harmonica!
Rumor: Move over Gwyneth, Rebecca Black is about to be the next big Glee guest star
You heard us right folks, Rebecca Black has been slated to appear on the hit musical TV show! In an attempt to lend her musical chops some credibility she's going to be featured in an upcoming episode as the evil stepsister of Rachel Berry, the female lead of the singing cast played by Lea Michele.
The storyline for the episodes states that, "Rachel's younger sister, jealous of the success and attention that her sibling's received tries to join the Glee Club herself and when she can't join the club she teams up with cheerleading coach Sue Sylvester to take the glee club down once and for all!" Rebecca Black was excited for the opportunity to showcase her acting chops, seeing the episode as way to demonstrate to fans that, "[I'm] a double threat." No word on when she'll make her Dancing With The Stars debut.
* Please note that it's entirely possible that we made all of these rumors up.