pubished by
kateb
on
July 22nd 2011
The Good
Fallon and Timberlake get insane in the membrane with History of Rap 2
Jimmy Fallon had Justin Timberlake back on his show this week, and the two reprised their History of Rap schtick with the help of back-up band The Roots. Watch the two comedians tackle Kurtis Blow, Salt ˜N Pepa, DMX, Cali Swag District and more to the delight of the audience.
The Beastie Boys action figures battle in new video
Last time Spike Jonze teamed up with The Beastie Boys for a video, the result was the indelible video for Sabotage. Their newest video collaboration for Don't Play No Game That I Can't Win, is just as funny. Watch the Boys' plastic alter egos get in on the action below.
The Bad
Rebecca Black releases My Moment
Rebecca Black wants to be taken seriously as an artist. Personally speaking, we're not there yet. So her sophomore effort, an über earnest ballad called My Moment, feels a little icky. Documentary-style videos of career highlights usually happen after you've actually made it (See Metallica's Nothing Else Matters or Bon Jovi's Dead or Alive). This video of a guitar novice trying to play Sweet Child O'Mine over some suggestive moaning is less painful to watch, but if you simply must assault your eyes and ears, do so at your own peril below.
Stage collapses on Cheap Trick during Ottawa Bluesfest
Cheap Trick was in the middle of their set at the Ottawa Bluesfest on Sunday, when the stage came crashing down around them. But don't worry"daddy's alright, mommy's alright and the band members are alright. (Sorry, we couldn't resist incorporating some of the lyrics to Surrender.) Check out the wreckage below.
The Ugly
J-Lo and Marc Anthony call it quits
Jennifer Lopez and Marc Anthony announced the end of their seven-year marriage this week. We definitely didn't see it coming after their COMPLETELY AWKWARD public appearance at the GRAMMY Awards back in February. Re-experience the mutual contempt below.
Flaming Lips release new songs in gummy form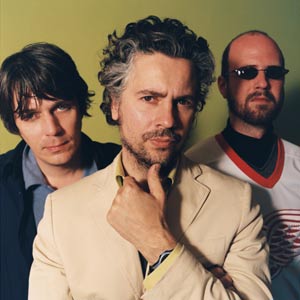 You know what pairs well with gummy fetuses? Flash drives. So goes the absurd logic of Flaming Lips. The band is planning to release three new songs, but here's the catch: They'll be on flash drives floating inside fetus-shaped gummy candies. If it feels wrong to bite into anything remotely resembling a baby, by all means, cut into it with a knife. We're sure the music will be worth it the guilt.
Miscellany
Blake Shelton nabs Number 1 spot on Billboard with Red River Blue
MTV Video Music Award nominees announced
Trey Songz to star in Texas Chainsaw Massacre 3D
Katy Perry will voice Smurfette in new Smurf movie
Demi Lovato and Ryan Phillippe are or aren't dating
Jay-Z and Kanye West album Watch The Throne drops August 1
Bette Midler thinks Lady Gaga's mermaid in a wheelchair routine is a little fishy
Bruce Springsteen plays Clarence Clemons tribute show
Adele, Elbow, PJ Harvey nominated for Mercury Prize
Ja Rule sentenced to two years behind bars for tax evasion
Justin Bieber and Selena Gomez crash wedding
Atlantis crew gets wake-up call from Beyoncé