Hayley Williams, lead singer of the band Paramore, possesses an incredible voice. Not only is she naturally talented, she's worked hard on her voice with coach Brett Manning since she was  thirteen years old. It is clear that these lessons have taught her control, and have strengthened her vocals. But while the kind of strength, passion and personality which Hayley portrays onstage have aided her music career, they've also resulted in negative effects offstage.
Hayley has consistently stressed to the public that she wants people to care about the band as a whole, but she still comes across as the band's shining star. With her spunky attitude, ever-changing hair color and her powerhouse voice, fans cannot ignore her. The band's songs are often composed of pretty standard rock progressions, but the way that she attacks every note with precision sets them apart from other acts. Additionally, her strong voice allows her opportunities which the other band members cannot take part in"a recording contract with Atlantic Records and the guest spot on B.o.B's hit song "Airplanes" for example.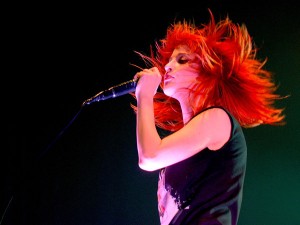 Back in December 2010, rumors of her overbearing voice surfaced after original members Josh and Zac Farro left the band and issued an exit statement which alleged that the band had become all about Hayley. The brothers said that they could no longer put up with what they called a "manufactured band" and made it clear that they felt their own voices could not be heard while in Paramore. And while the Farro brothers had always seemed like crucial ingredients in the band's success, Hayley and remaining members Taylor York and Jeremy Davis decided to proceed without Josh and Zac. Nothing could stop Hayley from moving forward and continuing to show what a sensation she is. And the successful release of their first single without the Farro brothers, "Monster" proves the point.
Though not the band's intent, Hayley Williams is Paramore. It is her face that people remember, and her voice which has people coming back for more. This kind of thing happens time and time again with bands and their vocalists. The band can often times feel either neglected by the fans or cheated by the lead singer, and this divide seems to only be amplified when the lead is female. Take Blondie for example.  Frontwoman Debbie Harry had press constantly focused on her, excluding other band members, which led to tensions rising and the band's eventual split in 1982. This "lead-singer syndrome" is tough on any band, but No Doubt did a good job of working through their problems and even released a video for "Don't Speak" that showed the band's struggle with the disproportionate media attention given to Gwen Stefani. So, while it IS possible for bands to reconcile perceived media favoritism, the imbalance can be incredibly hard for individual members to deal with and can cause a great bands' career to end prematurely.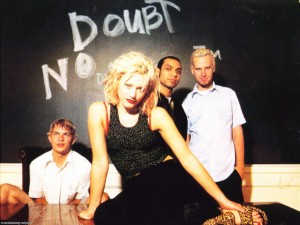 Do you think that these lead singers should be valued higher than their bands? Let us know your opinion in our comments section.