Famous albums always maintain a certain mystique. The legacy, the monumental impact and the personalities surrounding landmark efforts turn albums into larger-than-life things. That's why we watched Behind The Music and Pop Up Video on VH1. And that's why we salivate when we get a little bit of insight from the people that helped make those albums what they are. People like Butch Vig.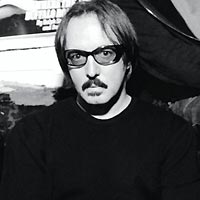 If you're not familiar with Vig and his work, you can check out his credited recording work here. Sonic Youth, Smashing Pumpkins, Depeche Mode, AFI. The list of bands Vig's produced for goes on and on. But his arguably most famous production gig was one of his most tumultuous. Vig was tapped to record the major label debut for then fledgling Seattle-based grunge band Nirvana. So how was it for Vig to helm the production for Nevermind, the biggest album of the '90s? Well, Kurt Cobain can be somewhat difficult to work with. Surprise!
"Kurt was charming and witty, but he would go through these mood swings," Vig reveals in a feature in Rolling Stone. While Cobain and Vig would often butt heads during the mixing process for the record, Kurt would eventually go on the record saying that Vig did a fine job of engineering the record and blamed any perceived "slickness" of the the album on himself. What a guy!
Many other albums are often victims of tense recording sessions. While little things like overwhelming drug use, physical inter-band altercations and mental illness might take some lesser acts down, it only propels greater acts and their output to a vaunted level. Fleetwood Mac were only able to record their masterpiece Rumours once two of the group's primary members were wrapped up in a turgid romance and the recording sessions were fueled by all-night benders. Pink Floyd's A Saucerful of Secrets is notable as the only record featuring singers David Gilmour and Syd Barrett. It was also Barrett's final recording with Pink Floyd as he was later dismissed from the band due to his erratic behavior, brought on by copious drug use and increasing mental instability.
One group you wouldn't expect to have such drama? The Beach Boys. At least early on in their career, anyways.
"Help Me, Rhonda" would eventually become the group's second Number 1 hit. In 1965, the group entered the studio to record the song as part of their sessions for their album Today! and Murry Wilson"father of Brian, Carl and Dennis"attended part of the session, to impart some "fatherly wisdom". It's important to note that while Murry was instrumental in introducing his sons to the music business, alleged stories of his abuse have circulated amongst hardcore Beach Boys fans for years.
While the veracity of those stories is unknown, his involvement in the "Help Me Rhonda" sessions has been recorded for posterity. Murry spends almost all of his time giving middling direction and melodramatically chastising the boys, telling them to "loosen up" and to "sing from the heart". You can hear an excerpt from the sessions below and the entire forty minutes of the ill-fated session here.
Keep in mind, this isn't some green, young band or some group of uninspired flacks. These are THE BEACH BOYS here. The Beach Boys who already had a Number 1 single and seven albums under their belt. And when Brian challenges his father one too many times, Murry utters the immortal line, "Brian, I'm a genius, too". Murry's meddling eventually led the band to scrap the entire session and re-record the track weeks later. How's that for drama? There's so much material here, someone should make a movie about it! Oh wait…
Maybe unfortunate circumstances and problematic factors aren't what drive artists to create masterpieces. Maybe our favorite bands and performers are just that good, able to overcome any obstacle to create their art. Also, we want some of our favorite bands to be a bit dangerous. If that means they're comprised of volatile lothario boozehounds, then all the better. Speculation is unnecessary on this point. The only thing that matters is that any fight, any disagreement, any bad vibes add to the story, to the legacy of a record. And for us music nerds who really care about that sort of thing, that's all that really matters.