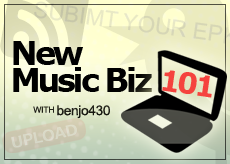 For an artist, sharing music is an instinct. Luckily it's easy to expose your music to the world with today's technology. One company that's made sharing and distributing music even easier is SoundCloud.  SoundCloud helps you put your music in the heart of online community, Web sites and applications to promote your sound and engage new fans.  Here's a quick overview:
Visualization of your music " SoundCloud's players are a thing a beauty. You can tell by the different shapes, sizes and levels of customization that they take pride in their players' visual appearance.


Ability to Share " SoundCloud works with all the major social networks including Twitter, Facebook, WordPress, MySpace, and more! The ability to easily play your music on all these social platforms opens you up to a wider audience. And, SoundCloud also includes features that allow your listeners to share the music they like.
Impressive Compatibility " SoundCloud also works with over 100 applications that integrate SoundCloud, which allows you to amplify your experience (and just makes your life easier). For example, a lot of the applications connect to your SoundCloud account so you don't need to re-upload your music.  Musicians who use multiple online platforms to promote their music know how much time can be saved by not re-uploading their music every time they make a new profile on another site.
Dashboard – The SoundCloud dashboard allows you to see all of the activity on your tracks including who selected your song as a favorite, who mentioned you in a comment, as well as key statistics like the number of plays for each song. It allows you to track your different widgets in one easy to manage location.
Unique and Cool Features –  In addition to the distinct waveform design, the player has a function that allows the listener to make comments on particular parts of a song. This allows your fans to give you valuable insight on specific moments in your tune. It's easy to upload your music at any stage of readiness in practically any format which makes this feature perfect for sharing rough versions of your music if you're looking for some feedback.
SoundCloud has some really great features that are worth checking out. However, keep in mind that a tool like SoundCloud is only that, a  tool. You can't simply upload your music to the platform and call it day. You need to continually engage your fans and community, and encourage them to share their thoughts when they hear something they like. Hopefully this post has given you some insight into SoundCloud and it's functionality. Have you used SoundCloud before? Let us know how you've used it in the comments section below.