The tradition of protest music has a long, rich tradition in America. From nascent beginnings in the early twentieth century and the labor movement to the great civil rights protest songs of the '60s to the '70s anti-Vietnam singer-songwriters to today, it's an integral part of the story of rock 'n' roll. Whenever some perceived injustice becomes large enough, you know there's going to be performers involved to lead the rallying cry.
"Don't you know they're talkin' bout a revolution/ It sounds like a whisper." Well, not quite a whisper, Tracy Chapman. Sure, Chapman wasn't writing this about the #OccupyWallStreet movement or the subsequent protests when "Talkin Bout A Revolution" was released back in '88. But that song and her words ring more true now then they have in a long time.
Now this isn't going to be some partisan treatise on the pros and cons of the movement"we'll save that for the wonky policy blogs. However, as the Occupy protests continue on into their fifth week, they have begun to draw in disparate segments from all across the pop culture spectrum. We've had conservative bloggers investigating/instigating in the fray, Gossip Girl alums hoisting cardboard signs and familiar Hollywood faces of varying loveliness. Oh, and Giraldo Rivera. More importantly, we've had a couple of good, old fashioned protest-music moments. And no, we don't mean that guy with the acoustic doing Pete Seeger covers, though that guy is pretty cool.
It's unknown what inspired Jeff Mangum of dormant folk group Neutral Milk Hotel to perform for the protesters on Wall Street. The notoriously retiring frontman has been making public appearances with increasing frequency in the past couple of months, playing sold out shows in east coast locales with tickets selling at near unaffordable prices. So, while you might not have been able to catch the reclusive Mangum in a solo set at some tiny club, if you were in downtown Manhattan on October 4th and happened to be a fan of collegiate indie rock, then you were in for a real treat. The best part? The tech savvy protests streamed the entire impromptu event as it happened on livestream, turning a cool moment into a viral thing.
"Of course I support [Occupy Wall Street]," Mangum said after his performance. "This is just something small that I can do." Aw, what a guy!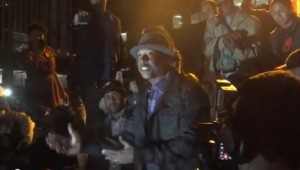 Great news for the unwashed, grungy masses that make up Mangum's fan base. But folk doesn't speak to everyone. Thankfully, hip hop has also staked a presence at Occupy Wall Street. While rapper Talib Kweli may not be quite as on board with the protesters demands and ideologies, he's happy enough to take part in the conversation. "You have to see how dedicated these people are to creating social awareness and creating a platform for us to talk about issues… disparities in our country," Kweli said to New York Daily News. Just a day after Mangum's appearance, Kweli took the time to play for the protesters, performing material both unreleased and dating back to his Black Star days. Vowing that he would return to the protests at a later date, Kweli tweeted, "Now this is the New York City I love."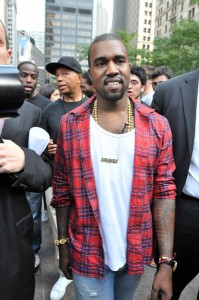 Then there was Kanye West. Did you think an iconoclast like West could stay from something this big? The mega-star rapper/producer was spotted with fellow hip hop mogul Russell Simmons making their way through the crowd on the 9th. Unfortunately there were no spontaneous renditions of his hits from Kanye. Almost all of the coverage of his appearance couldn't help but make note of his big gold chain"wearing big jewelry at a rather austere gathering, it's such a totally Kanye thing to do"that he rocked while passing through the throng of protesters. The whole scene played out like a quality single from Mr. West; flashy, glamorous, contradictory, complicated, ostentatious and over in a few minutes. To top it off, the savvy Simmons' tweet coverage of the event provided a nice play-by-play and aftermath of West's appearance.