Using your voice to sing is one thing, using your voice to bring an important issue to light is quite another. While it seems pretty common for artists to be involved in all sorts of charitable causes"from volunteerism and activism to foundations and benefit shows"celebrity involvement isn't always a clear case of best intentions. Some artists get involved simply to increase their popularity and fan base while others hope a healthy dose of charity can help negate some bad publicity.  So, it's always nice to see a standout in the sea of fair weather philanthropists"someone who is not only donating money, but who speaking about things he or she believes in, and is not afraid to ruffle some feathers.
Historically, there have been many different artists who have been vocal proponents of change. John Lennon is a great example of one of these standouts. Lennon actively made his political views known, and truly cared about the impact of not only his music, but his voice when he wasn't performing. For example, he and Yoko Ono's famously staged Bed-ins for Peace, where they were filmed in bed in their pajamas speaking out against the Vietnam War and taking a stand for world peace, during their honeymoon.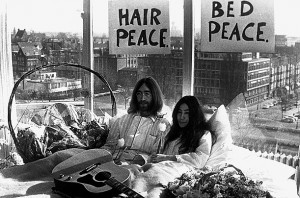 Another great example is Bono, whose charitable work against world poverty began with U2's appearance alongside Sting at the Conspiracy of Hope tour Since then, the famous frontman has made a trip to Ethiopia, where he worked hands-on to develop a program to educate the population about heath and hygiene. He even took US Treasury Secretary Paul H. O'Neill on a four-country tour of Africa in 2002 to shed light on poverty and hunger issues. And he has continued to show how deeply he supports these causes by being a part of creating the ONE Campaign, DATA, (RED) and EDUN, all organizations which have had huge impacts upon these global problems.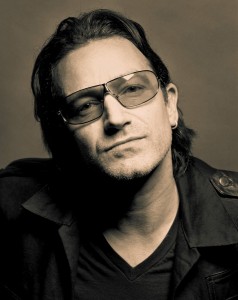 Most recently, pop megastar Lady Gaga took a stand against bullying after hearing one of her fans, fourteen-year-old Jamey Rodemeyer, had committed suicide because of bullying about his sexuality. Gaga has long been a strong voice for the LGBT community, but after this incident she publicly made a statement against bullying, dedicated a song to Jamey at one of her performances and even followed through on a vow to meet with President Obama to discuss the subject. She also helped round up support on Twitter with her tweet "I will not stop fighting. This must end. Our generation has the power to end it. Trend it #MakeALawForJamey".
It is such a nice surprise when you see a star dedicating their time and energy to a meaningful cause. And it's so important that these singers, who have so much influence over their fans, use their fame to do good and raise public awareness.
Who inspires you to do good? Let us know in the comments.