The adjectives ethereal, otherworldly and mythological tend to follow Marissa Nadler around like a pack of wandering troubadours. Nadler's cultural understanding made it all the more poignant when she found herself subjected to the socio-economic forces of the oh so present"when she was ostensibly downsized. Her former label, Kemado, dropped her (its vinyl-only imprint, Mexican Summer, had been named after one of Nadler's songs), but the thirty-year-old singer/songwriter didn't just wail to the harpies. She opted instead to put out her fifth album on her own, financing it through a successful Kickstarter campaign and by selling her own handmade albums through Etsy. Fortunately for Nadler (though not so much so for Kemado), her recent self-titled release is her strongest record to date. Liberated from the reverb-rich sounds that once engulfed her dreamy, melancholy voice, it's no surprise that Nadler herself has called the album her most honest to date.
OS: How has putting out your record on your own been going so far?
MN: It's obviously a lot more work to put out your own record. I did many things right and I overlooked some important things (a publicist in each major market in Europe, for instance). I literally spent years of my life on this project. Luckily, I have a great boyfriend that helped me to the post office every night for months mailing my backers their rewards packages.
OS: So the Kickstarter campaign was a positive experience overall?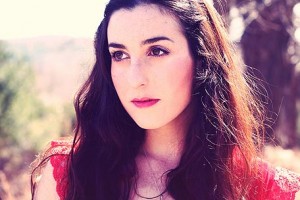 MN: Some people may think Kickstarter is just throwing money at artists, but that couldn't be farther from the truth. Even though I earned a lot through the campaign, had I been better at math, I would have asked for a lot more. I maxed out three credit cards mailing the packages to Europe because I didn't think about the fact that one vinyl record alone is $10 to mail to Europe. Fifty to seventy percent of my backers were from outside of the US, so that is something I really messed up on not thinking about. Kickstarter is literally getting not only the record done, but the mailings, and every little thing you promised. I'm good on my word so I'm still finishing up five oil paintings for five of my highest backers. So, I would say, yes, it has been a success.
OS: Did you learn anything from the experience?
MN: I was very lucky, because of my previous reputation, to have Carrot Top Distribution take me on, and my little label on, for worldwide distribution. So, essentially, I just cut out the middleman. With the help of Big Hassle, and a few other things that I learned along the way bouncing from label to label, I was really able to use what I learned to try to do the release the right way. The best thing I can say is I now own the masters to my record. I signed my masters away for life to my last record, and an artist should never do that. Also, I feel like doing this really made my fans respect me on a whole different level. People would assume, because of the ethereal sound of my voice and my musical aesthetic that I wouldn't be able to run a record label. There is a big difference between me as an artist and me as a worker. I wouldn't recommend a self-release for everyone. It's only for the neurotic, obsessive-compulsives.
OS: Standing on line at the post office you really realize how fucking small you are in the scheme of things.
MN: Long ago realized the world is just going to end anyway, you know? We are all nothing. We are all tiny.
OS: Do you resent the peculiar responsibilities that come with being a musician nowadays? I mean, can you imagine Leonard Cohen or Patti Smith ever tweeting their appearances to their followers?
MN: I have no power or control over it. I used to care and now I don't. I make the music I want to make. The only think I really care about is making pure art.  I try to keep up with the social networking, even though it makes me sick sometimes to have to shamelessly self-promote, just because you have to these days, especially when running your own label. Then, other days, I see the Internet as a beautiful way to connect with people and share your art with people. Who knows, maybe Leonard Cohen and Patti Smith would have been down with it after all? It's been a great tool for my career, especially with my social anxiety problems.
OS: Do you feel comfortable discussing your social anxiety problems?  I mean, other than the feelings, which must come up while standing on line at the post office…
MN: Well, there is no point in hiding them since they are so obvious, especially when I am on stage. It's more of an issue for me in the performing world. I love to play music live, but I also have stage fright. And talking to people after shows is hard. The post office"I go to the one that is open till midnight in Boston. All the mail order people go there. So, it's kind of like where all the night stalkers go.
You can purchase Marissa Nadler's album on cd or vinyl at www.marissanadler.com.