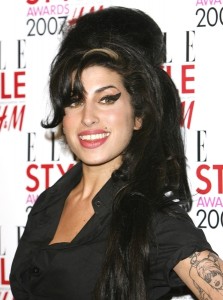 We haven't heard the last of Amy Winehouse yet, folks.
The BBC reports that Lioness: Hidden Treasures will be the third and potentially final release from the tragic singer. Coming out in December"just in time for the holidays"the twelve-track collection consists of assorted curios; b-sides, demos, covers, reworks and outtakes. Lioness supposedly shows fans where Winehouse was going with her sound at the time of her death and includes some unreleased material that gives the listener a true sense of her musical identity and influences. The project was curated by members of Winehouse's family along with producers that Winehouse had worked with in the past, and though there is "a trove" of live performances from which to cull more material for future releases, this appears to be the final studio offering of the late singer.
So, what to make of this? Is it a loving, well-meaning, fan-oriented offering? A sort of thank you, farewell closing statement from a fallen giant of pop music? Or is it a crass, tasteless cash grab, a cynically-calculated push to move units? It's a question that burdens every posthumous release, no matter how well meaning.
Many legendary artists pass before their time and often leave a treasure trove of material behind "Biggie, Kurt Cobain, Marvin Gaye, Karen Carpenter of The Carpenters just to name a few. Hell, even Jimi Hendrix is still releasing records! There's a lot of money in nostalgia so one will never have to worry about some new bit of musical sediment from our favorite artists.
Tupac is a great example of an artist whose prolific output in life has actually been outweighed by the records compiled and released after death. And that's not only in the number of records, the the volume of units sold as well. The handling of his body of work, after death, has been pretty respectful and reverential. For example, Pac's Greatest Hits, released in 1998, is the best selling title in his catalog and has one of the biggest hits of his career, "Changes", a track which had languished unreleased since it's recording in 1992.
But not all artists get such treatment. Many great performers have their iconic releases drowned out in a sea of re-releases and unnecessary compilations of one take demos and non-tracks. Do we really need another Elvis Christmas compilation? And does anybody remember Biggie's Duets: The Final Chapter for '05? Exactly.
But Lioness doesn't feel all that crass. In fact, the comp sounds, on paper at least, like a fitting final entry into the singer's canon. Between listening previews reporters were given for the record in late October and descriptions of the song choices from producer Salaam Remi, the collection sounds like it would be a must-have for any hardcore fan and would certainly pique the interest of anyone somewhat familiar with the singer's work. Some tracks to be featured on the comp showcase a hip hop connection in Winehouse; "Like Smoke" and "Halftime" feature Nas and Questlove respectively and"Between the Cheats" and "Our Day Will Come" are heavily influenced by doo-wop. Finally, maybe the most intriguing addition, "A Song For You" has Winehouse breaking down in tears halfway through the track and later ruminating with Remi on the merits of singer Donny Hathaway, another singer who died well before his prime.
So what are your thoughts? Will you be picking up the new Winehouse record when it drops in December? Let us know in the comments!