Even though Josh Turner's debut album was certified platinum, the songs on his 2010 album Haywire are what pushed him into the major leagues of country music"as evidenced by his headlining slots, array of awards and legions of fans.
Why Don't We Just Dance, the album's debut single was the artist's third No. 1 single and spent four weeks as the No. 1 most-played song on country radio in 2010. The song also won an American Country Award for Single of the Year-Male. No sooner had that single become a radio staple than Turner's next single 'All Over Me,' hit No. 1. No wonder he was inducted into the Grand Ole Opry as one of the youngest artists to ever receive the honor.
Although Turner released his Long Black Train debut in 2003, he's fine with the steady pace at which his career has advanced. And why not? The Hannah, SC native has won an array of awards and GRAMMY nominations, has a solid fan base and is hailed as one of country music's brightest young artists.
Turner recently took some time to talk to OurStage about his last album, his upcoming release and just how his wife handles all the attention to receives from adoring fans.
OS: Congratulations on all of the sold-out shows you had this year. What's your secret?
JT: We just get out there and have a good time and try to speak to the fans. We have had a great run of shows this year. We have had a much busier run of shows than we anticipated and that's always good.
We have had a lot of people turning out and had a lot of sold out shows this year. That is encouraging especially in this economy, too. People are still looking for entertainment and escape from every day life and that's what I try to give them.
OS: So I keep reading reviews of your concerts where they mention all of these beautiful women in the audience that try to catch your eye. How does your wife [Jennifer who plays keyboards in your band] react to all of that?
JT: She used to struggle with it early on in my career, but she is out there with me everywhere we go as part of my band. She sees it all first hand so she tunes a lot of it out.
I was joking with her one day early on in my career when she got mad. We were walking down this alley, going from one venue to another venue. This woman basically, and I don't think she meant to, pushed Jennifer out of the way to get to me. Jennifer got mad but I said "Baby, you got to understand that these people are just very excited." She's a good sport about everything, though.
OS: Everyone loves your latest album Haywire. As you look back on the 2010 release, what do you think of it?
JT: I've gathered from it that whether it was an up-tempo song or gospel song or story song or whatever type of song on it, each and every song had an unbelievable amount of energy. I normally don't speak in those terms but that's exactly what this record had"a lot of energy and a lot of emotion. That really showed off my style of music and who I am and my heart and is just really positive. I'd say most every song on this record is positive whether it's a ballad or an up tempo song.
OS: I know one of your music idols is Randy Travis. I heard him perform recently and it struck me that his songs are, as corny as it sounds, timeless. They sound as fresh now as when he released them decades ago. Yours are like that, too.
JT: That is what every true artist aspires to, those songs that are timeless. Or I think we, as artists should do that.
The majority of what Randy has done you could classify as timeless.¦ Jon Anderson and¦Don Williams do that too. Don is the epitome of singing timeless songs. One of the songs on Haywire, "I Wouldn't Be a Man" is an old Don Williams song. You wouldn't think of it being fifteen-twenty years old but it is, and it sounds like a brand new song. I always try to find songs that aren't going to be cool just today but twenty years [or] thirty years from now.
OS: So have you taken away a lot of musical lessons from Haywire?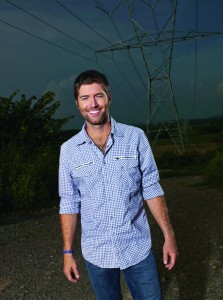 JT: Yes and no. I think I am my own worst critic and I will obviously put more pressure on myself than anyone else will. Sometimes that's a good thing and sometimes not. You know I try to just take things lightly. You never know really what is gong to happen with charts or the economy or whatever is going on in the industry. Sometimes you have a bad experience on the charts and think "I am never going to record a song like that again." That's not right. That's not the right attitude to have. Sometimes there are circumstances that you just can't control.
OS: Can you give me an example?
JT: The title track for the Everything is Fine record only went to No. 20. My producer and I both thought that would be my first No. 1 record as a writer. It had all the ingredients of a No. 1 song and only went to No. 20. Obviously, I was disappointed about that. I still play that song in my live show and every time I play it the crowd goes nuts. The fans know a good song when they hear it and they'll let you know. So that's the true test.
OS: So when might we hear new music from you?
JT: I'm working on a record right now. We're about halfway through it. Everything is still in that song search process. I'm always trying to find songs that will beat what we already have. I can't really throw out any details just yet. I do know the label is talking about a single in January but that is really the only information I have.
OS: Are there any singers out there you are hearing that you just adore?
JT: Ashton Shepherd. I think she is the best female country singer to come along in a long time. I have been listening to her new record¦and from what I hear she can sing anything and make it sound good. The thing about her is you know her when you hear her. Her voice is very unique and she has a great tone. She is easy to listen to and is country. You don't hear that with female singers very much anymore. That really sets her apart.
OS: So you have some downtime for the holidays. What are your plans?
JT: We are planning to go to football games and spend Thanksgiving with my family. This year is going to be a little different. We are spending Christmas at home. Things change when you have three children. We're lucky because my family and my wife's family all go with the flow. Everyone's very accommodating¦and we all enjoy our family time.
Find out more about Josh Turner, including upcoming tour dates, on his Web site.