Taylor Swift has been keeping herself very busy since the release of her triple platinum album Speak Now. The singer-songwriter just wrapped up a nearly six month, cross country tour in support of the record this past Tuesday in New York with a two-night residency at Madison Square Garden. While we understand that Swift needs a break"between the constant touring, the songs Swift has been putting together for her next album and the tweets of her too-cute-to-handle new kitty, Meredith"we hope that she can make it back onto the road soon.
Why do we want Swift back on tour? Well, in addition to the fact that we haven't seen her in concert yet, Swift was providing a very special treat to fans coming out to her live show: surprise guests! In case you haven't been out to one of her shows yourself, Swift has been bringing on a performer each night to do a little ditty with. And for those that have no interest in country music, fret not"most of these stars are some of Swift's fellow Top 40 alumnus.
So yeah, we've seen the usual suspects. Swift rocked Nashville with Hayley Williams of Paramore fame, performed a joint rendition of "Baby" with Justin Bieber in Los Angeles and got weird to the tune of "Super Bass" with Nicki Minaj.
But there have also been some pleasant curve balls tossed out too. Swift spent the weekend performing in Atlanta in early October and the star power in attendance did not disappoint. On Saturday, R&B superstar Usher made an appearance, blasting through a rousing rendition of 2004's smash hit "Yeah!". Disappointingly, Swift did not rap either Lil Jon's or Ludacris's verses, opting instead to sing backup on the chorus.
That said, Saturday's performance sounds like it would be pretty hard to top right? Well, Swift did herself one better Sunday night when she brought out Atlanta's favorite son, rapper T.I., for a cover of his and Rihanna's "Live Your Life". It's also worth mentioning that T.I. had only just finished his prison sentence a few days before. Although performing on-stage with Taylor Swift may not the most obvious choice for the first thing you do out of the joint, it's certainly not the worst either.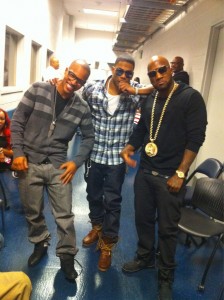 Later on Swift posted a picture from the backstage of the Atl show of her hanging out with the aforementioned T.I. along with rappers Young Jeezy and Nelly. Strange bedfellows indeed, but it does make for a very exciting live show. Speaking on her affinity for rap, Swift told MTV News that, "I'm a huge hip hop fan, and it's been so amazing to have so many incredible artists come out and to get to sing the hooks on their songs that I have been blasting in my car for the last couple years." We probably shouldn't be so surprised though. After all, Swift has covered Eminem in the past. Here's hoping that you keeping dropping bars in the future, Taylor.