"I get high with a little help from my friends," Ringo Starr sang on the Beatles' 1967 classic. These days, so do many of music's top stars. Two's company, and so is three and sometimes four. The more the merrier, the higher and higher they get.
On the charts, that is.
In the Top 40 of Billboard's Hot 100 for the week ending December 10, seventeen songs were collaborations between separate recording entities. Four of them featured Drake, and three apiece featured Rihanna and Nicki Minaj, who both appeared on tracks with Drake and with each other. But will.i.am featuring Jennifer Lopez and Mick Jagger"and debuting at No. 36 with "T.H.E. (The Hardest Ever)," which the threesome performed on the November 20 American Music Awards"was probably the one that nobody saw coming.
Old-school Rolling Stones fans must be cringing at the idea of Jagger going anywhere near Lopez and will.i.am so soon after Maroon 5 featuring Christina Aguilera went to No. 1 by invoking his hallowed name on "Moves Like Jagger." But for a sixty-something legend like him, hit records"even if in name only, a la Duck Sauce's GRAMMY-nominated "Barbra Streisand"are a near-impossible dream unless they're in tandem with other, often younger, stars.
Tony Bennett, Santana, Herbie Hancock and the late Ray Charles knew this. (The latter three all won Album of the Year GRAMMYs for collaborative albums, and Bennett just earned his first No. 1 with one.) So does Madonna, an artist who has spent her career being mostly self-sufficient"before "4 Minutes," with Justin Timberlake (the only proper duet that had ever appeared on one of her studio albums, was "Love Song," with Prince, on 1989's Like a Prayer). Next up: a hoped-for return trip to the Top 10 via "Give Me All Your Love," the first single from her upcoming album, with Nicki Minaj and M.I.A. in tow.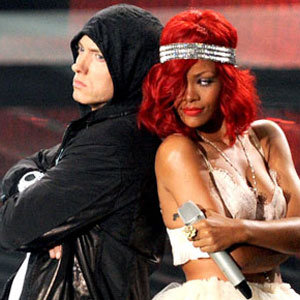 Of course, unexpected collaborations can yield massive sales and great music. Eminem's "Stan" probably wouldn't have been such a watershed moment in his career without Dido's contribution, and the rapper's "Love the Way You Lie" soared on the strength of Rihanna's vocal input. No wonder Coldplay invited her to sing on "Princess of China," a track on its current Mylo Xyloto album. (The band had already toyed with another pop queen, Kylie Minogue on "Lhuna," a 2008 charity single.)
Over in country music, Jack White rebooted both Loretta Lynn's career and her artistry with 2004's Van Lear Rose; Tim McGraw and Jason Aldean have united with rappers Nelly and Ludacris, respectively, on big crossover hits; Bon Jovi and Sugarland's Jennifer Nettles scored a 2006 country No. 1 with "Who Says You Can't Go Home"; and Taylor Swift and Minaj performed Minaj's "Super Bass" onstage together earlier this year at Los Angeles's Staples Center.
Of course, the best collaborations are the ones that shouldn't work and are about actual artistry, not just about increasing commercial odds or angling for credibility by slapping a rapper on every other track (that would be you, Justin Bieber) or young guns boosting an aging pop queen (sorry, Madonna): Lynn vs. White, Liza Minelli vs. Pet Shop Boys on Minelli's Results album, Pet Shop Boys vs. Dusty Springfield on "What Have I Done to Deserve This?," Nancy Sinatra vs. Morrissey on "Let Me Kiss You," Robert Plant vs. Alison Krauss on the Album of the Year GRAMMY-winning Raising Sand, Bing Crosby vs. David Bowie on "Peace on Earth/Little Drummer Boy," and so on.
It doesn't always take two to make a thing go right, but in those cases, it did. Here are five other unexpected tag teams that must have looked terrible on paper but sounded great blaring from the speakers.
1. The Jacksons featuring Mick Jagger, "State of Shock"
Freddie Mercury was supposed to be the featured rocker on "State of Shock" back when it was intended for the Thriller album, but the brothers ended up going with Jagger for their 1984 comeback single. Paul McCartney would have been a more obvious vocal fit for Michael Jackson, but on both of his hits with the future King of Pop, they were coasting. The beauty of Mick vs. Michael is that you can hear them trying to outdo each other, which gives the song purpose and power. Imagine what "The Girl Is Mine' could have been with a Rolling Stone as Jackson's rival instead of a Beatle!
2. The KLF featuring Tammy Wynette, "Justified & Ancient"
You can take the woman out of the honky tonk, but thank god, British dance act the KLF didn't try to take the country out of Tammy Wynette on its 1992 No. 11 hit. The song worked because Wynette didn't try to be someone she wasn't: Donna Summer. A summit meeting of dance, R&B, hip hop and country that was truly ahead of its time.
3. Kate Bush featuring Prince, "Why Should I Love You?"
Bush's 1993 album The Red Shoes is perhaps her most undervalued album. Not too Prince and not too Bush (though perhaps a tad more Prince than Bush), its penultimate track was the perfect sonic blend of two of music's most iconoclastic talents.
4. Toni Braxton featuring Mo'Nique, "Caught (Don't Take Your Hat Off)"
If you missed Academy Award winner Mo'Nique's royal dressing down on "Caught," a bonus cut on Braxton's 2010 album Pulse, today's your lucky day (click above). If only we all had Mo'Nique on speed dial to do our dumping for us!
5. Nicki Minaj featuring Natasha Bedingfield, "Last Chance"
It's been a tough few years for Bedingfield, who is finally back in the Top 10 (the country Top 10) with Rascal Flatts on "Easy." But "Last Chance," her album-closing collaboration with Minaj on the rapper's 2010 debut, Pink Friday, is the one that should have reignited her once-rising star. That Bedingfield can sound equally at home collaborating with a country trio, a rap diva and Sean Kingston (on her own 2007 hit "Love Like This") is precisely why she deserves a second career wind"all by herself.
The Collaboration Hall of Fame
Mary J. Blige and U2, "One" (from 2005's The Breakthrough)
Elvis Costello and Burt Bacharach, Painted from Memory (1998)
Tricky featuring PJ Harvey, "Broken Homes" (from 1998's Angels with Dirty Faces)
Nick Cave and the Bad Seeds and Kylie Minogue, "Where the Wild Roses Grow" (1996)
Traveling Wilburys (George Harrison, Bob Dylan, Roy Orbison, Tom Petty, Jeff Lynne), Traveling Wilburys Vol. 1 (1988)
Dolly Parton, Linda Ronstadt, Emmylou Harris, Trio (1987)
Run-D.M.C. featuring Steven Tyler and Joe Perry, "Walk This Way" (1986)
USA for Africa, "We Are the World" (1985)
Band Aid, "Do They Know It's Christmas" (1984)
Barbra Streisand and Donna Summer, "No More Tears (Enough Is Enough)" (1979)