Cake has always been a band that defies explanation, somehow molding elements of rock, hip hop, jazz and even folk into unlikely hits like The Distance and Short Skirt, Long Jacket. They further surprised listeners this January, after their latest release Showroom of Compassion debuted at Number 1 on the Billboard Top 200. OurStage caught up with Cake's Vince DiFiore"whose lively trumpeting has been the icing that sets Cake's idiosyncratic alt-rock apart since the band came together in 1991"to find out about the album's Number 1 debut, what it was like recording in a solar-powered studio and the importance of junior high jazz band.
OS: What was your reaction when you found out that Showroom of Compassion debuted at Number 1 on the Billboard Top 200? Were you expecting that?
VD: You know, I still don't have that little person, that little leprechaun or mini-elf or whatever it is dancing around in my head saying, We're number one! or anything. What's really interesting is that was actually about the same number of records that we sold when Pressure Chief came out. But back then, I don't think we were anywhere near Number 1. This time, that number of albums is a number one record for the week. It's just very telling about how the music industry is now. But it's something that we embraced, it's something that we owned and enjoyed. We had never had a Number one record before, so it was an enjoyable moment for everybody. It was something we worked hard for, and it was worth celebrating.
OS: And it's great that your fans are still buying music.
VD: Yeah, yeah. They must feel sorry for us, or something like that, buying our record instead of getting it for free.

OS: This is your first album of new material in almost seven years. Why did you make everyone wait so long?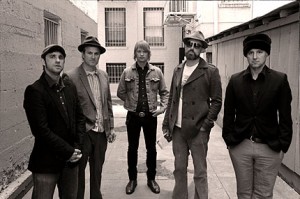 VD: It's sort of like looking at a receipt after you leave a Rite-Aid or a Walgreens or something like that, and you just think, How did I just spend forty bucks? And then you look at the receipt, and it adds up. That's how the seven years went by. We toured on Pressure Chief for about two or three years all over North America and Europe, and went to places like Istanbul and Jakarta. By that time, we had an option to either do another record with Columbia or get off the contract. So we did [leave Columbia] and we took the necessary steps to create our own label, Upbeat Records. We put out B-Sides and Rarities, which is a collection of our own mostly cover songs that we put out as kind of a first-run experiment. Then we put solar panels on the studio, and John [McCrea, frontman] introduced some new songs to us, and we all worked together as a group to arrange those songs.
OS: What was it like recording the album in a studio powered entirely by solar energy?
VD: It was good, I felt really positive about that. It created a more comfortable atmosphere in the studio. Whenever there was some malevolent feeling rising up to the surface, I think the fact that we had solar energy abated those feelings. There's a scene in The Sopranos, in the last episode, where the couple is at home and they're finally parting ways. The wife is fidgeting with the thermostat, and the husband gets sort of bothered by that. Those little, petty things based on consumption and the sharing of resources can kind of eat at you. So that was a good thing for us to do. And we're guilty. We're aware of the current climate issues, and we feel guilty traveling around the country like we do. It was one of the things that we've done to be better citizens. There's no reason why there shouldn't be more solar energy in this country, for sure. We have plenty of sun, and there's always energy issues. We should really turn to solar energy as fast as possible.
OS: What's the meaning behind the album's title?
VD: Well, I think instead of actual compassion, it's a showroom of compassion. You know what I mean? There's a picture of a tiger on the cover, and the tiger has a human being under its talons. It looks like it's thinking for just a moment before it's about to devour the human. Maybe that is a bit of a showroom of compassion right there, but it's ultimately not really [compassion].
OS: There's a Frank Sinatra cover ("What's Now Is Now") on the new record, and you have a song called Frank Sinatra on Fashion Nugget. Has he had an influence on your music?
VD: Yeah. I think somebody who was in the Four Seasons wrote that song for Frank Sinatra, but yeah, he's an influence. I think he's definitely an influence on John's vocal style. The way John phrases his lines is definitely influenced by Frank Sinatra "kind of a laid-back style and syncopation that you're not expecting. It's such a great song. I think it's about jealousy, and about possessiveness, and about a man letting go of his possessiveness, letting go of the ugly side of a relationship. It's funny because in the song, he's forgiving the girl for doing something, but in reality I think it's a man growing as an individual. I don't know, I'm talking about the song too much. [Laughs] But that song is awesome.
OS: Well, it's a classic.
VD: Yeah. It's funny"when you listen to the lyrics you don't really think about what it's about. But everybody's had that similar experience where a boyfriend or a girlfriend has been jealous about something that's happened in the past and upset that somebody got together with somebody else, even before they knew each other. Letting  jealousy control you in that way… it's a song about that.
OS: What else were you listening to as you put together the album?
VD: Well, something that really was inspiring for me and taught me how to be a good band member was being in high school band. I think of all the cool things that we played then, and all the things that were sort of dark and had a good swing to them that you weren't expecting to be playing. I'm always trying to find something that is unexpected but fits somehow into the rest of the music, and I'm always thinking back on junior high school. And then I've been listening to a lot of Lee Morgan recently, also. That's jazz music, and something that doesn't really make it into our music all the way, but that kind of feel that he has on the trumpet is something that I aspire towards.
OS: Are fans going to have to
wait another seven years until they hear more new material from you guys?
VD: [Laughs] I hope not. When we were finishing up this album, there was a lot of talk like, Yeah, let's go right back in the studio! Right between tours, let's go back into the studio and start working. And we'll see if that happens. Usually after a tour, we want to take a little bit of a break from each other. But maybe there's some way we can go in as a pair. I can go in with Dave, and work on some things, and then another time John can come in and work on some stuff. Maybe we can start working on it slowly but surely, but I hope it doesn't take another seven years. We hope we have another album in maybe two or three years, something like that. It's hard to say, it's really out of my control.
OS: One last thing: did you ever find a girl with a short skirt and a long jacket?
VD: I don't know, she sounds like a lot of trouble to me. [Laughs] But I like the analogy in that song, the metaphor for the economy. In times of economic uncertainty"I forget how it works"but in some way women's fashion is a reaction and reflection of the state of the economy. As stocks go down, the skirts go up, you know what I mean? It has to do with the ebb and flow of all sorts of value in society. You want to show a little, but cover up a little bit too. But yeah, short skirt and long jacket? I'm married, and I'm trying to think if my wife ever dresses like that. Maybe around the holidays.
Check out Cake's Web site for news, tour dates and their weekly advice column.