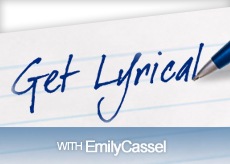 Chances are you fell into one of two categories this Valentine's Day: the happy lovebird whose adoring significant other showered them with gifts, or the bitter loner who spent the evening acting like you weren't even aware it was the 14th. Luckily, there's music on OurStage for both groups. So whether you're still basking in the glow of your perfect Valentine's date or working on your fifth pint of Ben and Jerry's this week, Get Lyrical has your back.
For the Lovers: Sara Lindsay's Best of Me
Songs about love are sometimes so sugary sweet that they end up being nauseating, but on her track Best of Me, Sara Lindsay successfully embraces the sappiness. How do I put to words what I'm feeling? I know it's so cliche, she admits. But she doesn't apologize for being in love, singing When I'm with you I can't stop laughing, and people keep asking why I'm so happy.
As a bonus, her sweet lyrics are paired with a lighthearted melody that's guaranteed to make you smile. And while Best of Me borders on cuteness overload with its plucky guitar and charming lyrics, the track is totally endearing. You put a song in my heart, though the chords are simple and bold, Lindsay sings. We just want to thank her for translating those chords into an adorable love song.
Other OurStage love songs to check out: Skyler Stonestreet's You're The Only One I Want, and Orange Avenue's No Goodbyes.
For the Others: Mike Squillante's Valentine's Day
This one's for those jaded lovers, Mike Squillante sings during the chorus of his anti-Valentine's track Valentine's Day, and that's exactly who he's writing for. But while lines like You're down to nothing at 7:00 in the PM could make this singles anthem kind of a downer, Squillante keeps it light, quipping that This has to do with one day in the year/It ain't Friday the 13th, if that's what you hear.
That's what makes Valentine's Day so great" for a song about being alone, it really isn't all that depressing. Squillante delivers lines about loneliness over a poppy, upbeat melody that's perfect for sing-a-longs. And with the lyrics It's overrated/designated dates just leave the rest of us out, singing along is actually liberating. Squillante has written an anti-Valentine's anthem that anyone who's spent a sucky Valentines Day alone can relate to 100 percent.
Other OurStage break-up songs to check out: Sidney York's My Name Is Karma and Lauren Daria's Lonely Valentine.