Q&A With Reel Big Fish

It's hard to imagine that Reel Big Fish turned twenty this year. The ska superstars maintain a youthful sense of humor as well as a relentless touring schedule, and their energetic performances alongside bands half their age at Warped Tour are a testament to their timeless nature.
But while they've been together for two decades, it hasn't always been easy. The group has undergone near-constant lineup changes, and frontman Aaron Barrett is the only founding member who's still a part of the band. We sat down with Barrett to talk about the ups and downs, his fondest memories with the group and the current state of ska.
OS: You guys have been around for a while " you're currently on your 20th anniversary tour. What has it been like to be in the same band for so long and be a part of all the changes the industry has gone through in the last 20 years?
AB: It's been pretty interesting seeing all the changes that have happened in the music industry up close like we have. Especially with the way MP3 technology took over and the way people obtain and listen to music now. The power went from being almost completely in the hands of the record industry to now being almost completely in the hands of the music fans. Also, it's been pretty amazing seeing the band I started when I was 16 go from playing backyard parties to getting record deals and having hit songs on the radio and MTV and touring the world and then having a long lasting independent career years after that. It's been a wild ride!
OS: And you've been touring nonstop that whole time. Do you ever start to feel worn down?
AB: We've pretty much been on tour non-stop since 1996, playing over 250 shows a year. Luckily I have OCD so I like to do the same thing over and over and over and over and it doesn't get old! [Laughs] But seriously, sometimes the traveling gets a little tiring. But we get to play music we love for a living and we have so many amazing fans that come out to the shows to support us, so that makes it such a joy and a pleasure to perform almost every night of the year.
OS: What are some of your favorite memories from your years with Reel Big Fish?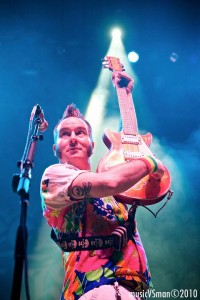 AB: Making the music videos has always been fun memories. Also, making Turn the Radio Off"our first real album in a real studio"was something special. We sang the national anthem at a Miami Dolphins football game in front of 50,000 people and that was pretty cool… and meeting the South Park guys [Trey Parker and Matt Stone] and being in the BASEketball movie was pretty surreal! We've been lucky enough to do a lot of very random and amazing things over the years. In fact, one time we acted on a sit-com with Andrew Dice Clay! We had lines and everything. The show was never a hit though… but it was called "Hitz." [Laughs]
OS: Does it surprise you that you're the only remaining founding member of RBF?
AB: It doesn't surprise me at all that I'm the only original member to still be in the band. It was my idea to start the band, and it was my dream to do this for a living. I've always written the songs and been the "captain of the ship," so to speak. So the people who didn't want to make RBF their entire life for whatever reason have gone on to do other things that make them happy and that's fine, I totally understand. What surprises me is that Dan [Regan, trombone] has put up with me for so long, almost 16 years! [Laughs] Also, I'm very happy with the line-up of musicians in the band right now. It seems like everyone is here for the right reason, finally, and everybody enjoys this music and loves to tour with this band. Things are good!
OS: Do you find it ironic that your most popular song is about selling out?
AB: Well, now-a-days I'd say our most known and long lasting fan favorite songs are: "Beer" and "Take on Me," thanks to the continuing popularity of the BASEketball movie. But I always thought it was very ironic and funny that our big hit song in the ˜90s was "Sell Out." We actually planned it that way. Our record label"Mojo" had a great sense of humor and actually suggested that song as a single!
OS: How did you decide which songs you wanted to cover on Fame, Fortune, and Fornication?
AB: It was just completely random, some songs we had already been covering, some I had always wanted to cover and a few were just songs that I was listening to a lot the previous summer.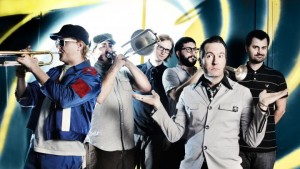 OS: We don't hear a lot of ska on the radio these days. How do you feel about the current state of the genre?
AB: I think to the mainstream radio and music industry in the 1990's, ska was just a novelty. Just a funny little joke that had run its course, so they moved on to swing and then to whatever else was new and different. I think to the average radio listener ska was just too weird and quirky, and it wasn't as tough or as cool as other kinds of rock or metal or rap. But the ska scene continued to grow underground and it is still getting bigger all the time. From what we've seen in our extensive travels is that there are more ska bands and ska fans all over the world than ever before. We are playing in either the same size or bigger venues than we ever have ever all over the USA and now in more countries all over the world. Ska is huge in the underground in the USA, Europe, Australia, Japan, South America, Eastern Europe, and we hear that ska is now sweeping Indonesia and the Philippines as wel. The scene is definitely going strong.
OS: Are we going to see a new RBF album this year?
AB: Either late this year or the very beginning of 2012… we hope!
Check out Reel Big Fish's upcoming tour dates here. And be sure to check out Punk On The Rocks this week, as Bethany examines the departure of longtime RBF trumpeter Scott Klopfenstein.