Festival season is fast approaching, and impassioned fans everywhere have enjoyed obsessing over rumors and clues trying to decipher where their favorite artists will be playing this year. Some festivals have more fun with it than others, announcing various clues and misdirections, and some are downright cruel. Let's take a look at a couple of different ways festivals have revealed their lineups this year.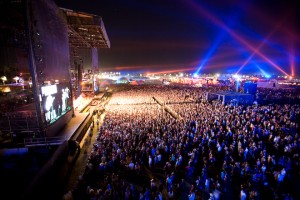 Coachella announced theirs late on January 18th, but not without getting their jollies first. Rumors that KROQ would announce the much awaited list at 5 PM were dispelled as lies and left plenty of anxious fans disappointed. They redeemed themselves just a few hours later, however, by unexpectedly posting the roster online. Some of the biggest names on the list include Kanye West, Arcade Fire, Kings of Leon, the Strokes, Animal Collective and the Black Keys. There are many, many more artists, of course, and Coachella can boast yet another killer lineup.
Bonnaroo took a different approach. Instead of teasing fans with false lineups or fake announcements, they posted a series of riddles that each correspond to an act or multiple acts. Here's an example from last year that will help demonstrate how evasive they can be:
Clue" The one monkey who was the warmest and his offspring.
Explanation (according to Broken Mic)"First, think of the band the Monkees. The warmest Monkee would be Michael Nesmith, because of his trademark wool hat. Now, another word for "offspring" could be "son". Put them together and you get Michaelson, or Ingrid Michaelson.

DJ JD Farmhound of Radio Bonnaroo has created riddles for the past few years and these teasers also seem to double as a marketing ploy. Here are the clues from this year:
Clue 1 – A trip to space thwarted by a speckled lad's demise. A watershed moment otherwise.
Clue 2 – Cecilia's dress code: Sheer
Clue 3 – Still up. A month now, maybe two. Don't call the priest, just find my guru.
Clue 4 – A veteran and magistrate, or a character of sorts. A throne one cannot abdicate, of which a crab can make a fort.
Clue 5 – Red, White and blue are all a part of this young palette. A farm heathen disguised among giants, the only Ten I see.
If you want to track the long chain of guesses and discussion, check out Roo Clues or Consequence of Sound.
Bamboozle revealed their lineup in a similar fashion to Bonnaroo. The key difference was in their delivery: they opted to post video clues on YouTube instead and the clues themselves were lengthier and a little less ambiguous. Click here to watch one of these perplexing clips and see if you're able to decode the bamboozlement.
To find out more about festival news, rumors and opinions in general, check out JamBase or Music Festival Junkies!
[Editor's note: according to coachella.com, festival passes are no longer available. Read: ya snooze ya lose!]