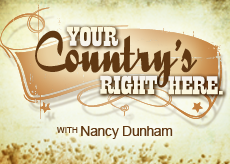 Attention fans of the JaneDear Girls: There will be no cover of "Cherry Bomb," the song made popular by The Runaways, forthcoming.
The fan request for that particular 1970s-era song notwithstanding, Susie Brown and Danelle Leverett have garnered a strong, some would even say devoted, following for their brand of country rock. That's evidenced by the fan-generated Academy of Country Music Award nomination for "Top New Vocal Duo or Group," and the nod from the ACM in the form of the "Top Vocal Duo of the Year" nomination. The recognition was spurred by the duo's self-titled debut album that was released February 1. The album's first single "Wildflower" has already reached the Top 20 on the country charts.
"You just have to follow your heart in life and if you do that, the hard work will pay off," said Leverett. "We are excited about the album and getting our fans more music. We just want to connect with everyone."
Despite the nixing of a "Cherry Bomb" cover, the duo's first meeting does have a hint of Runaways' flavor to it. As fans know, producer Kim Fowley introduced Joan Jett and Sandy West who went on to form the all-woman band in the 1970s. Brown and Leverett were introduced by a mutual friend at a Nashville club at which Brown was playing. They swapped phone numbers, met to go swimming and a few weeks later found themselves writing and playing music together.
"We wrote our first song and [our friend] helped us finish it and said 'You guys are a duo,' said Leverett. "We just went from there."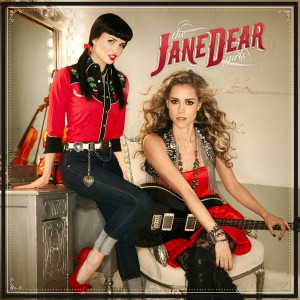 The teaming of the two"who are each multi-instrumentalists that play eight instruments between them"attracted industry interest particularly from country royalty John Rich, who went on to produce their album. Leverett had met Rich when she first arrived in Nashville, and he took a professional interest in the young woman who also hailed from Amarillo, Texas.
Leverett and Brown have written songs together for about five years now, and have a good feeling for each other's style and taste. Perhaps that's why selecting the eleven songs for the debut album was fairly straightforward.
"We sat down with [John Rich] and listened to a bunch of songs," said Brown of the selection process. "Every day is a holiday is the theme that really kicked it off. All the songs are fun, high energy and very feminine."
That is how the individual songs evolved, too. Consider "Wildflower," which Brown co-wrote.
"I had an electric mandolin that I had bought in Utah…and I went to a guitar center and got this little amp," said Brown. "We started jamming on something and I had this little flower in my hair. One of my friends said 'Let's call the song 'Wildflower.' I said 'That's perfect!' so we started jamming and had the song [written] in about two hours. Now it's the first single."
Leverett has similiar stories to tell including about "Shotgun," which she wrote because she enjoyed the traditional sense of  "riding shotgun" in a truck and also sees the term as an example of bonding with a life partner.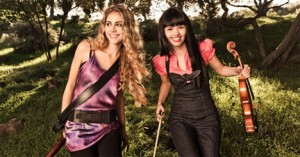 "I started playing a solo riff on an acoustic guitar," says Leverett of the co-writing process. "We wrote the entire song with different lyrics and decided the first line was our favorite. We rewrote lyrics [so they would tie back] to that lyric. At the time, I was dating someone with a truck and my favorite thing to do was ride in the big truck. But both Susie and I come from families…where [parents and grandparents] are partners for life. That's what Susie and I want."
Although they are both still moving toward that personal goal, professionally their music partnership couldn't be sweeter.
Find out more about the JaneDear Girls and their debut album on their Web site.
The JaneDear Girls are opening for Jason Aldean on his "My Kinda Party Tour." For a complete list of those and other scheduled JaneDear Girls' appearances, check here.