Forbes recently released their list of the world's richest individuals. Mexico's telecommunications magnate Carlos Slim is the richest man in the world two years running and Bill Gates and Warren Buffett are still in the Top 5. So not much interesting news going on there. However, Forbes also released their list of the Top 5 richest rappers to accompany their billionaires' list, giving the whole proceedings a much more pimp flavor.
Sean "Diddy" Combs has topped the list this year with a staggering $475 million dollars. No surprise there as the man is the ultimate entrepreneur. In the world of  hip hop music, making money is the opposite of selling out: it's the name of the game. Diddy has no competition in that department even if he's not the best rapper in the world. You name it, be it clothes, business management, brand development or what have you, Diddy has his hands in it. Jay-Z comes in at a surprisingly close second with $450 mil, his income likely more tied to his mammoth record sales and his position as the head of Roc Nation. Plus Beyoncé is his wifey. Finally, Dr. Dre rounds out the Top 3 with $125 million, a large chunk of which can probably be linked to those now ubiquitous Beats headphones (which now come in Justin Bieber flavor!).
The real surprise on this list is entrant tied with 50 Cent for the Number 4 spot: Birdman.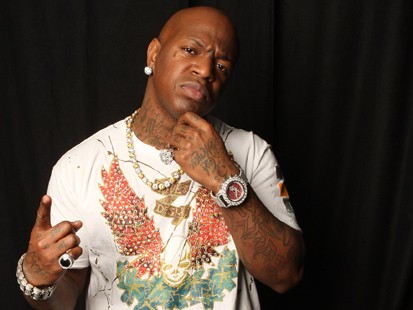 Wait, wait wait. Bird-who? Who-man?
True, Bryan "Birdman" Williams is not a hit maker on the same level as the other rappers on this list. In fact, I challenge you to name one of Birdman's hits from any point in his career. That's not to say he hasn't produced hit tracks before, but it's telling that he's only had seven Billboard Top 100 hits throughout his career, none of them falling withing the Top 20. Compare that record to the string of hits that any of the other rappers on this list have come out with. It will pale in comparison. So where is Birdman getting all of his paper?
First, he's the head of Cash Money Records. Cash Money initially blew up when they signed a $30 million dollar distribution deal with Universal. The company counts Young Money Records, home of Lil Wayne, Nicki Minaj and Drake among others, as an imprint. Impressive, but pretty standard stuff  in the record business. What is it that really sets Birdman apart from the rest of his fellow Forbes rappers?
It's oil. Which explains this tattoo.
In 2009, Birdman and brother Ronald "Slim" Williams began the Bronald Oil & Gas Company. Bronald is dedicated to "working cooperatively with governments and private enterprise to recover energy from reserves throughout North and Central America in an environmentally friendly manner". While news of the enterprise was initially met with either shrugs or jokes it appears that the Williams brothers have done well for themselves on this one. Not only that but some commentators who know a lot more about the oil business then we do report that "indie oil companies", like Bronald, are the future of the industry. So kudos to Birdman for having the temerity to break into such a competitive industry.
And kudos for getting that paper. Scrilla, chedda, scratch or green; you name it, Birdman's got it.