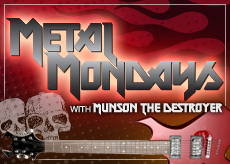 There are certain countries that are considered to be a cut above the rest in terms of the metal they produce. At the top of the metal food chain are countries like Canada, Finland, Italy, Sweden, Norway, the UK and the US"but who reigns supreme in the metal world? There is a strong case to be made for each of these countries, but in the last two decades it's hard to argue against Sweden as metal's capital.
Though Sweden might not have the most metal bands out of all these countries (that title probably belongs to the US), they have birthed a few bands in the last few decades that have gone on to pioneer, revolutionize, or create a new sub-genre of metal. Bands such as In Flames, Dark Tranquillity and At The Gates are the forefathers melodic death metal (and what would be come to known as the "Gothenburg sound"). Meshuggah are often considered one of the most unique metal bands of today, inspiring countless bands to come after them are"they're also often cited as the main influence for the recent trend of "djent" bands). Opeth is largely considered the pinnacle for progressive death metal bands, with each of their nine full-length albums earning extremely positive critical response. Candlemass is one of the original epic doom metal bands that would carve the modern and current definition of doom metal.
Even if you take out the list of heavily influential metal bands that shaped the current lay of the metal land, you're still left with a list of massively talented bands: Amon Amarth, Arch Enemy, Katatonia, Bathory, Hypocrisy, Bloodbath, Soilwork, Scar Symmetry, Cult of Luna, and the list goes on. One of the biggest deciding factors, in addition to the quality of these bands, is their longevity. Even pioneering bands like Dark Tranquillity, Opeth and Meshuggah are still putting out landmark releases. That's what it's all about: sustained, high quality, albums year after year.
Of course, there can be strong arguments made for any of the aforementioned countries"the UK produced Motí¶rhead, Black Sabbath and Judas Priest and creating the entire genre of metal. The US can be credited for producing the "big four" of thrash, among countless other great bands. Still, even considering all of the arguments for other countries to reign supreme, it's hard to argue against Sweden.