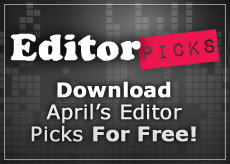 I'm particularly excited about this month's selection of Editor Picks, for the completely unrelated reason that April is this editor's birthday month. But you don't have to be celebrating a birthday to capitalize on the awesomeness that is this month's Best Of playlist. Packed to the gills grizzly rock anthems, sick hip hop beats and even a Fleetwood Mac cover and American Idol contestant, run, don't walk to OurStage's Facebook page to download the eight songs for free. Don't forget to check out 8tracks.com to listen to past months' playlists.
Eclectic Approach "Cool" – Rock meets pop meets hip hop, you don't need to be a cool kid to enjoy this track.
Tim Halperin "She Runs" – You may recognize Tim from Jennifer Lopez flirting shamelessly with him on this season of American Idol, but we'll continue the love affair right here on OurStage.
Jerzy Jung "Black Dress, White Dress" – We're jealous of her (god-given) name and Annie Lennox-sounding vocals.
Those Mockingbirds "The Chain" – Almost forty years later this Fleetwood Mac classic still holds up, given a new life with sandy female harmonies and crunching guitars.
Black Thai "The Ladder" – If you weren't buying into the metal resurgence as of late, let Black Thai change your mind.
PunchFunkLove "James Brown" – Rage Against the Machine meets The Roots with mind blowing energy.
Yung O "Eddie Kane Jr" – Who knew Oklahoma City had such a raging underground hip hop scene?
Chasing Blue "Whiskey and Wine" – Because we just can't shake our Mumford & Sons obsession, and Chasing Blue does bluegrass right.